25 of the finest designer tuxedos in Nairobi Kenya.
Do you have a very important occasion coming up? 
Here are a couple of designer tuxedos in Nairobi Kenya that will absolutely guarantee the wow factor.
If you're the type of gentleman who's a connoisseur of the finer things in life, then you've landed on the right page. These designer tuxedos in Nairobi were built for Kenyan royalty such as yourself.
Enough chit-chat. Let's get this show on the road.
Starting things off is this gorgeous ivory white designer red carpet tuxedo in Nairobi Kenya.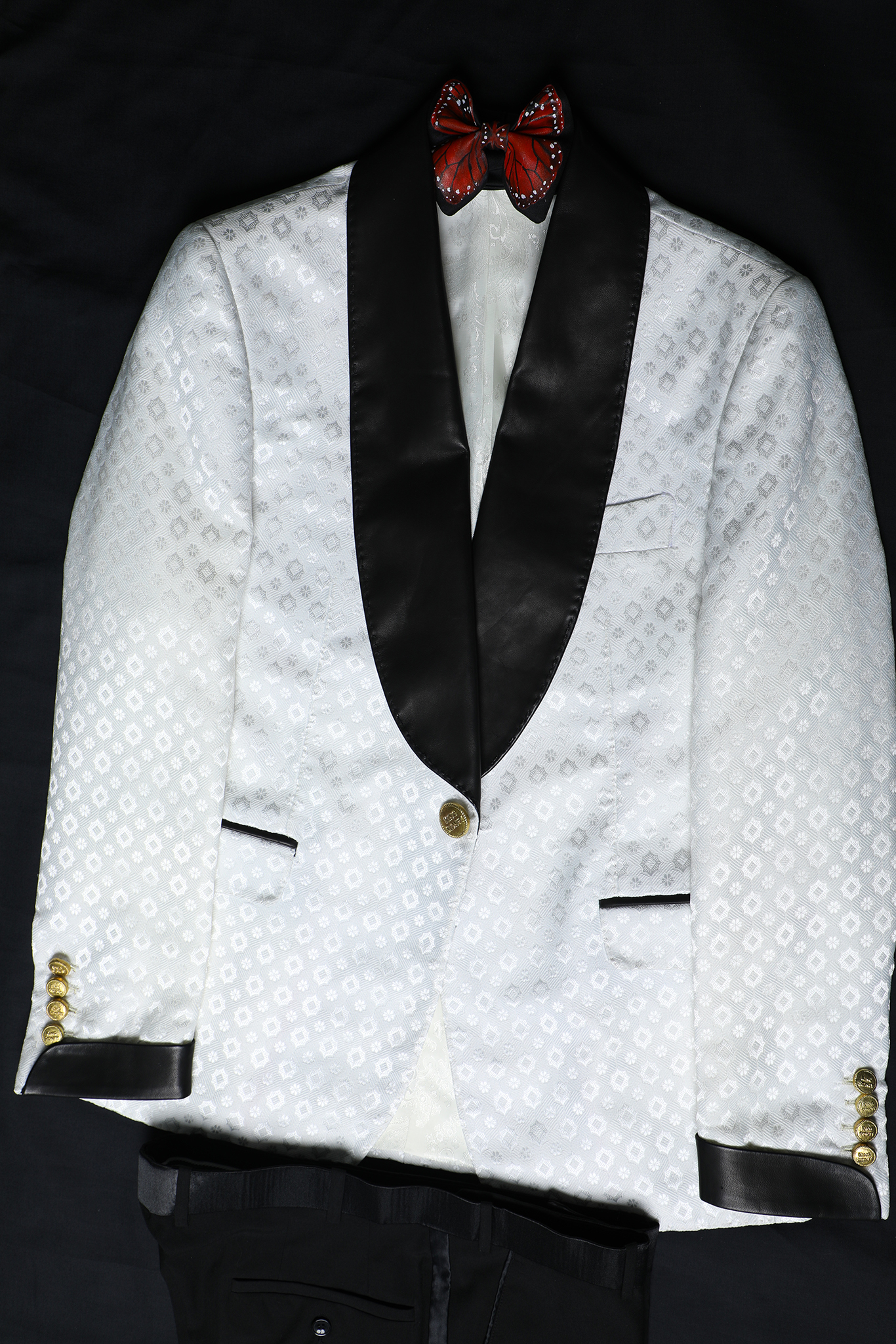 How cool would it be if you could get married in a tuxedo, then still be able to use that very same tuxedo to attend a high profile red carpet function in Nairobi Kenya?
Well, with this particular ivory white tuxedo, you can go ahead and do exactly that. Constructed with gorgeous jacquard fabric and completed with leather detail, this tuxedo will have you fully representing your high level of sophistication at any important event you choose to attend.
Just check out the lovely brass buttons that complete your ensemble and have you shining in a variety of ways. Respect shall flow.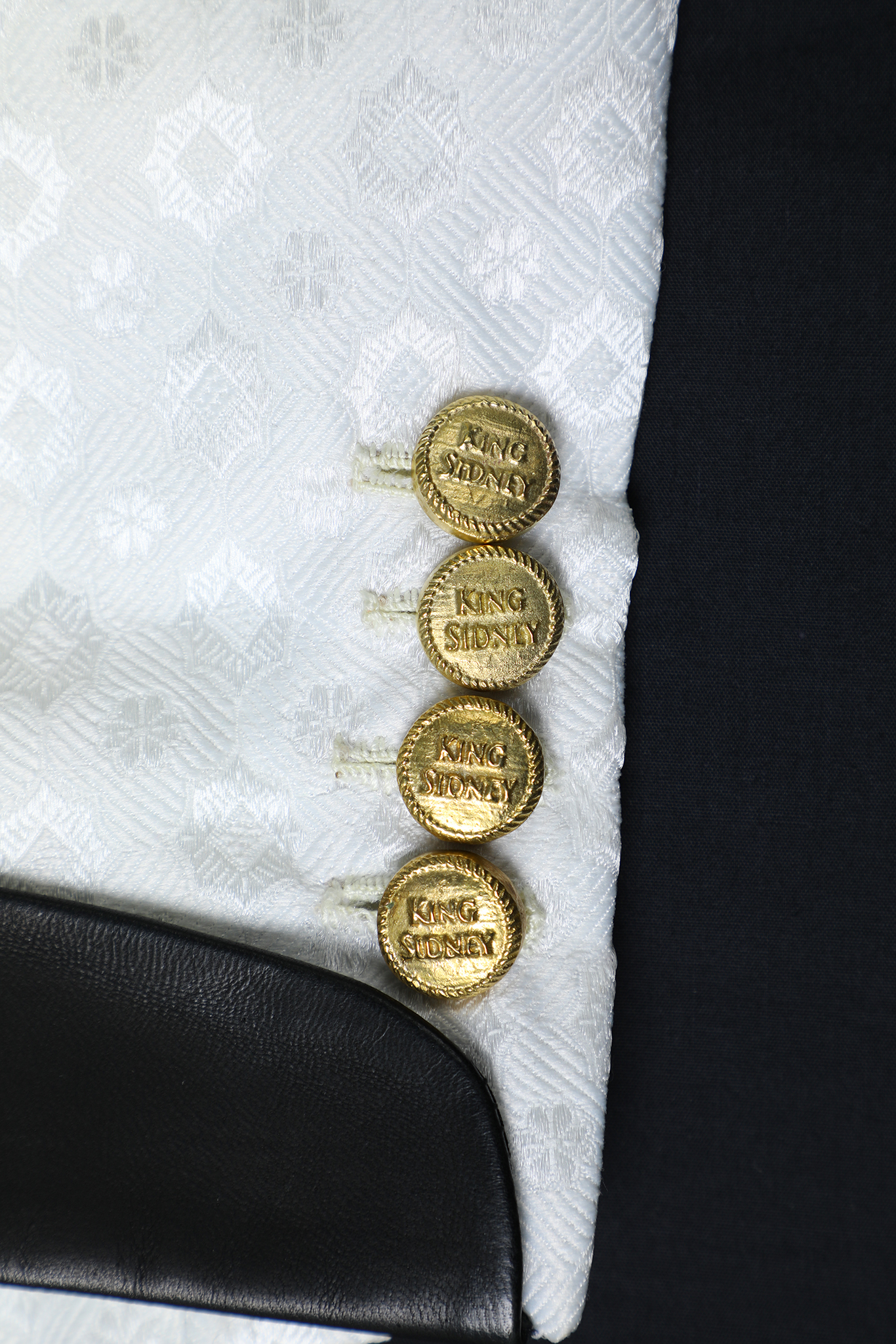 The best way to complete this glorious black tie red carpet tuxedo is with a unique hand-painted bow tie. Depending on the theme of your event of course.
Speaking of glorious, here's radio royalty King fareed Khimani hosting the Real Housewives of Nairobi Reunion episode in his King Sidney tuxedo.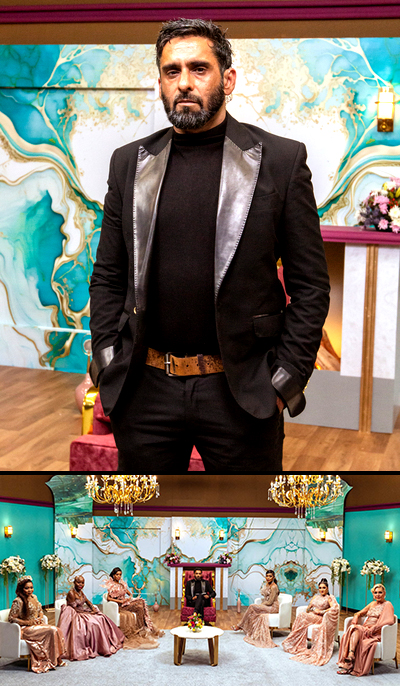 You've gotta love the way the black nature of the tuxedo pops out against the gold and red of the throne chair. 
And as if that wasn't enough, the way he matches his belt to his shoes is truly representative of the style King that he is.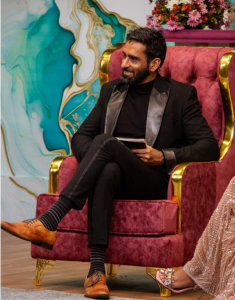 Let's switch things up a little and go from a black to a blue tuxedo.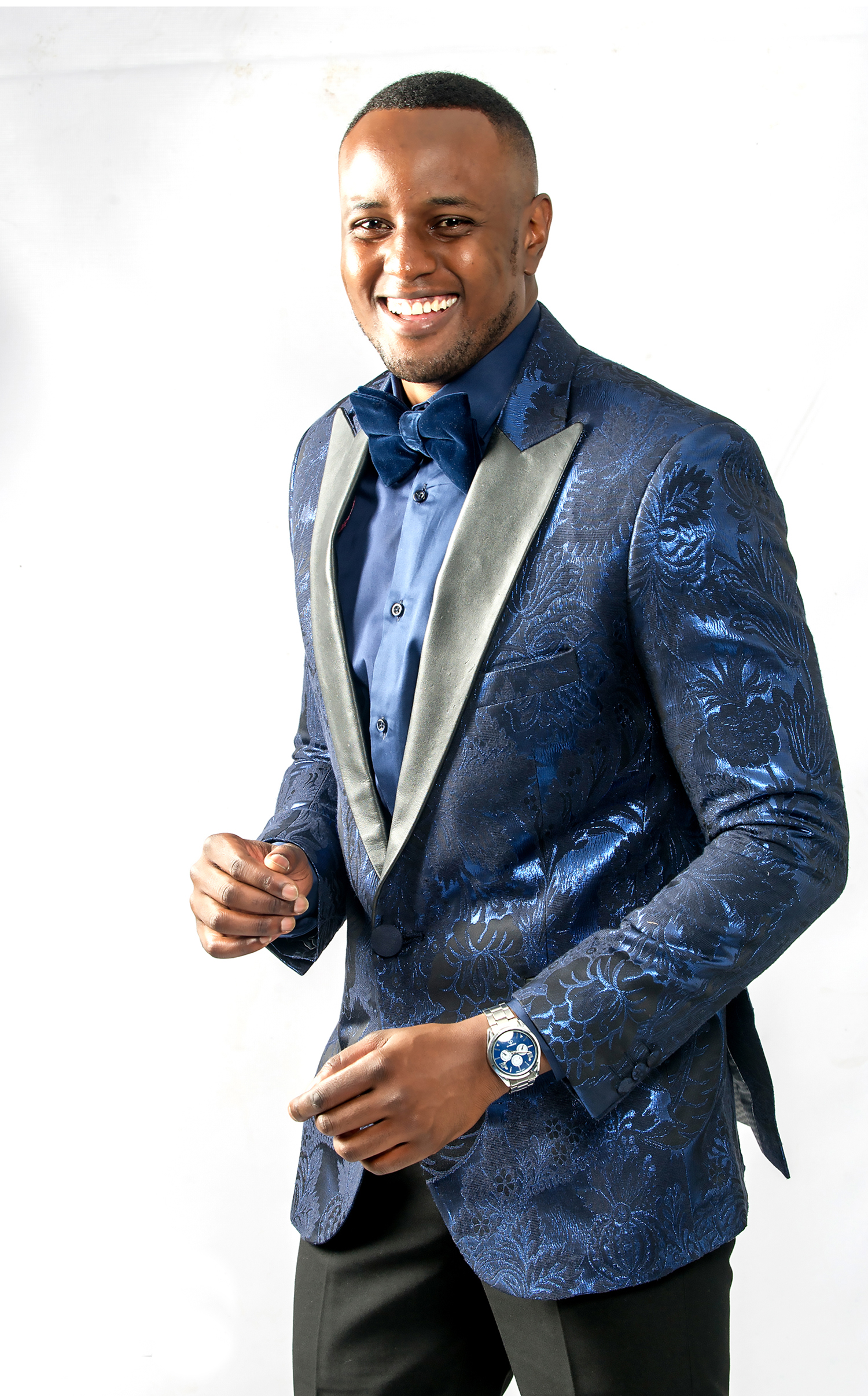 This designer tuxedo will guarantee you paint Nairobi red (sorry, blue). Designer tuxedo jackets don't get more beautiful than this. The lapel is constructed with genuine leather, which amplifies the sophistication of the look to a whole new level. Ideal for even the most sophisticated of dress codes.
Notice how he matches it with the blue watch. A truly outstanding respect-earning look.
This tuxedo jacket is ideal only for extremely special occasions. Pair it up with a pair of black wool pants and you have a tuxedo suit that is to die for.
Below is a King Sidney owner outshining the groom as possibly the most dapper wedding guest Nairobi has ever seen by styling his tuxedo with a white shirt instead.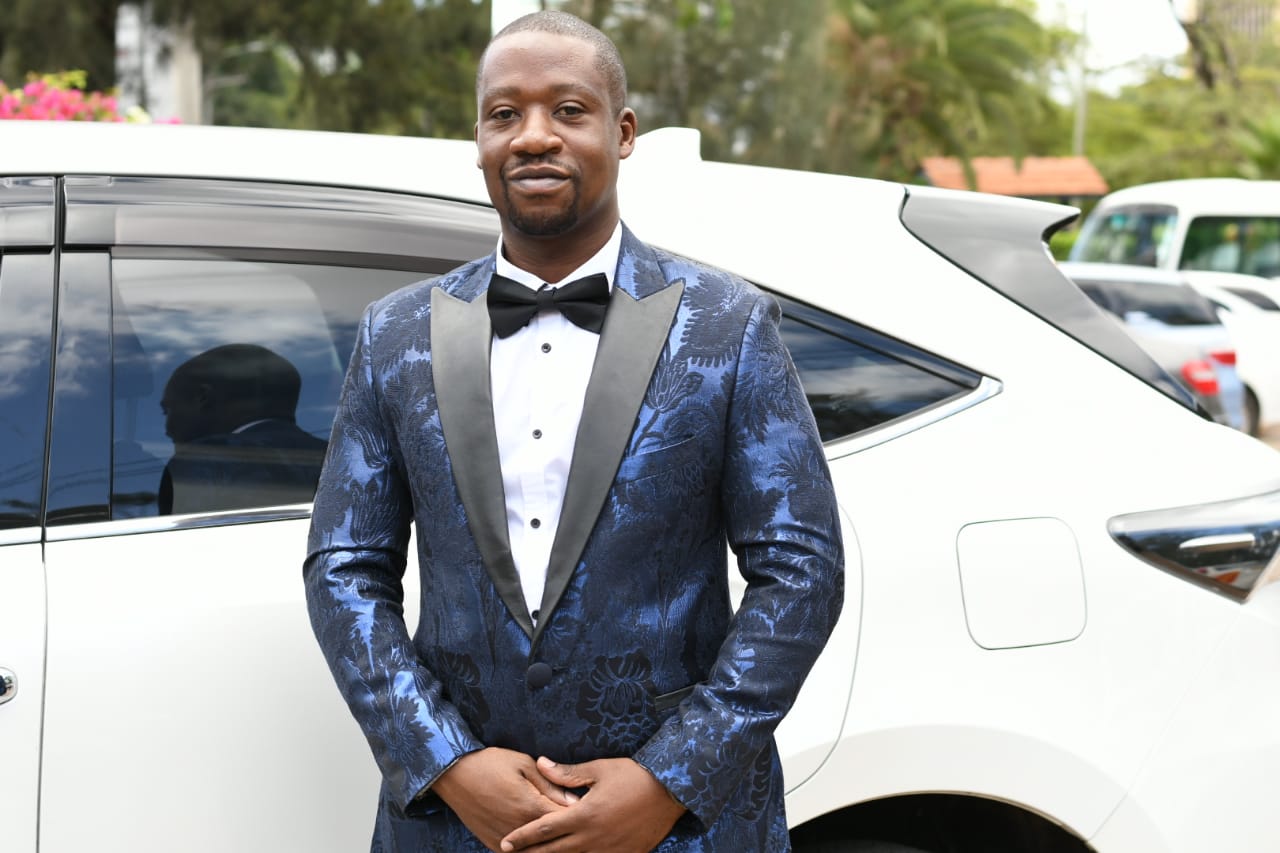 Sticking to blue, here's an expatriate from the United Kingdom absolutely killing it at a gala ball in his navy blue velvet tuxedo outfit.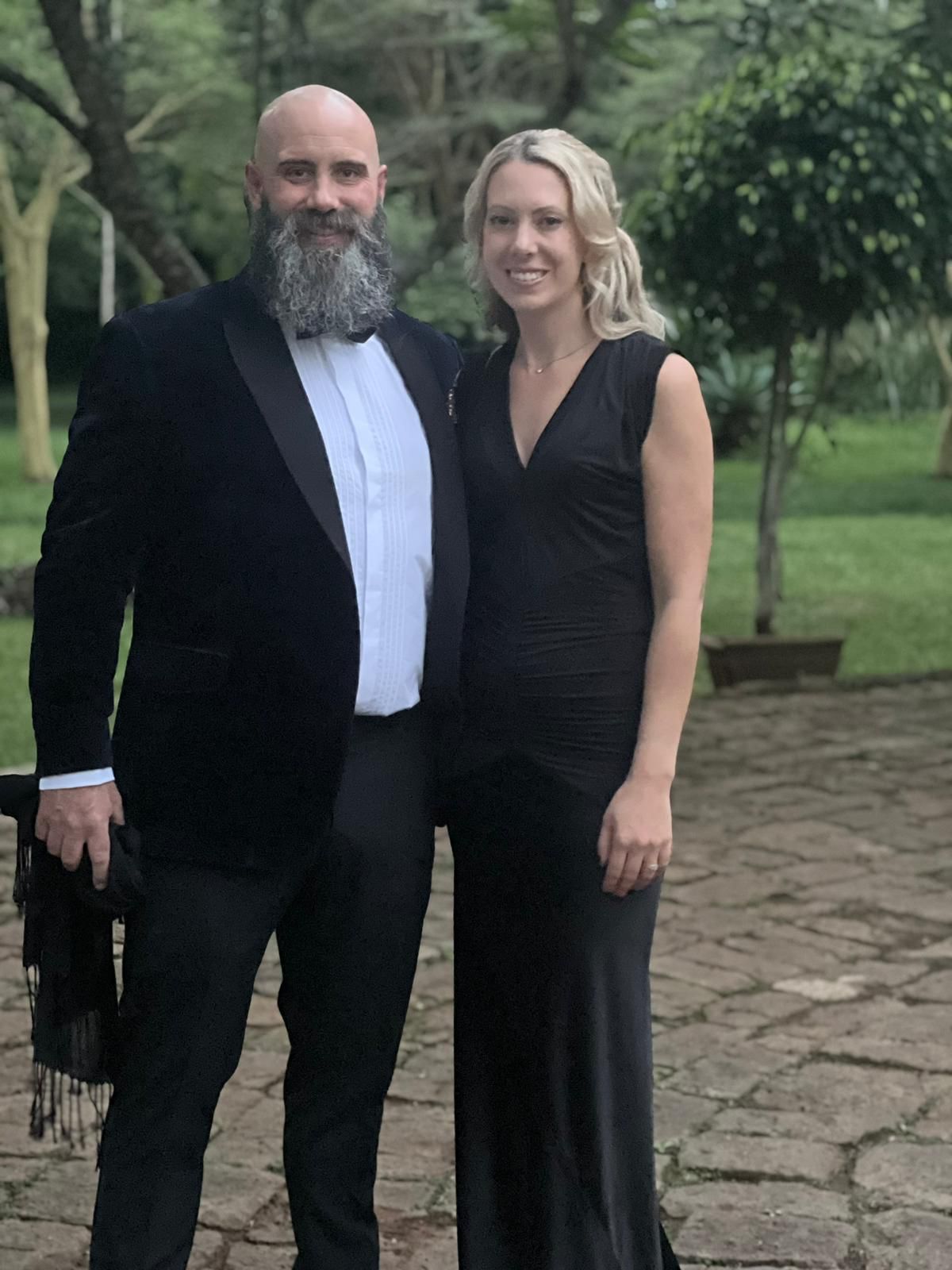 What can we say? A special event calls for a special tuxedo.
Sticking with the color blue, unique wedding tuxedos for the groom in Nairobi Kenya don't get any cooler than this. Details such as biblical gold embroidery on the back of the wedding tuxedo as well as custom metal buttons had this groom's new wife feeling like the luckiest woman in the whole wide world. 
Next up, we have a unique take on the traditional shawl collar tuxedo. Designed with leather trim, this black designer tuxedo is the perfect tool for any gala nights and charity ball you may soon be attending.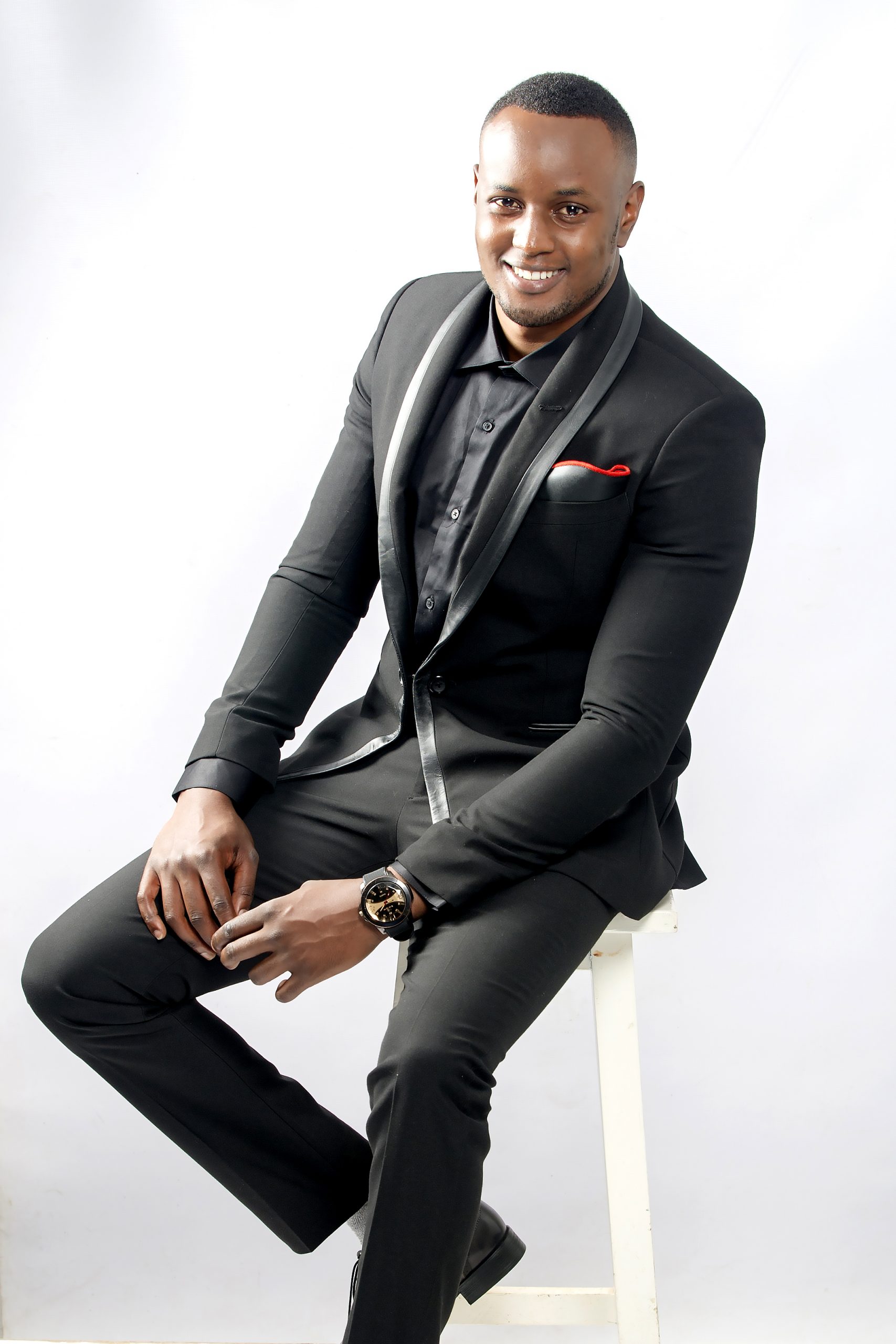 Wow. This will have you looking extremely powerful. Forget Nairobi, black designer tuxedo jackets, and suits the world over don't get any more exceptional than this masterpiece.
It's a real confidence-booster this tuxedo. An exceptional statement piece. You've got to love both the leather detail as well as the diamante front closure.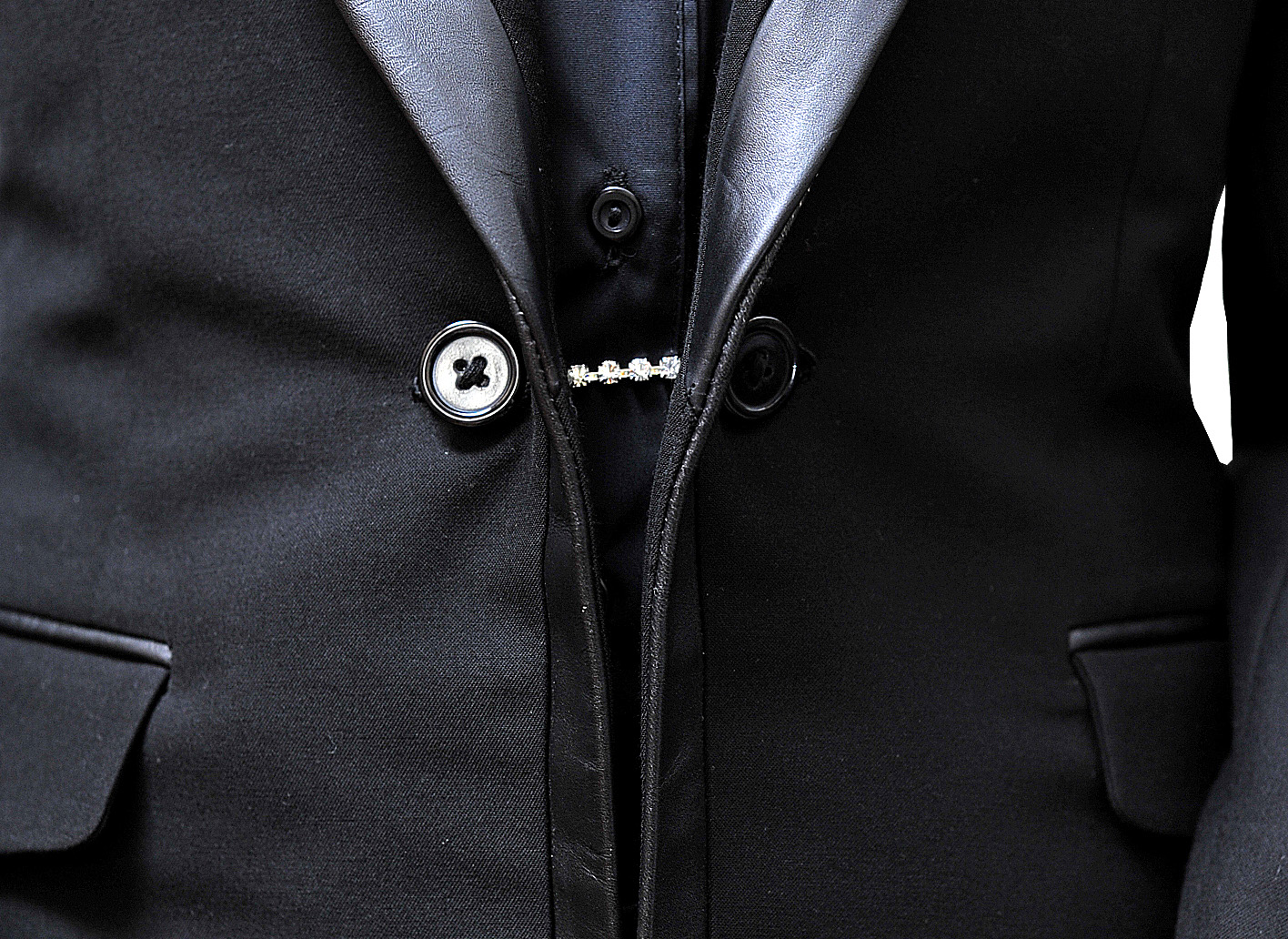 But what if you're aiming for a slightly more casual look? Smart casual. The black tuxedo bib shirt is more ideal for cocktails or an important gala dinner. What if you're attending a Kenyan wedding and you're looking to rock your tuxedo?
The beauty of this particular tuxedo is its versatility. 
Powerful Kenyan wedding? Powerful Kenyan tuxedo look. The way to accomplish that is to pair your tuxedo with a black turtleneck and formal black trousers, as shown below. Then get ready to have jaws dropping as you assume the unofficial title of Nairobi's sharpest wedding guest.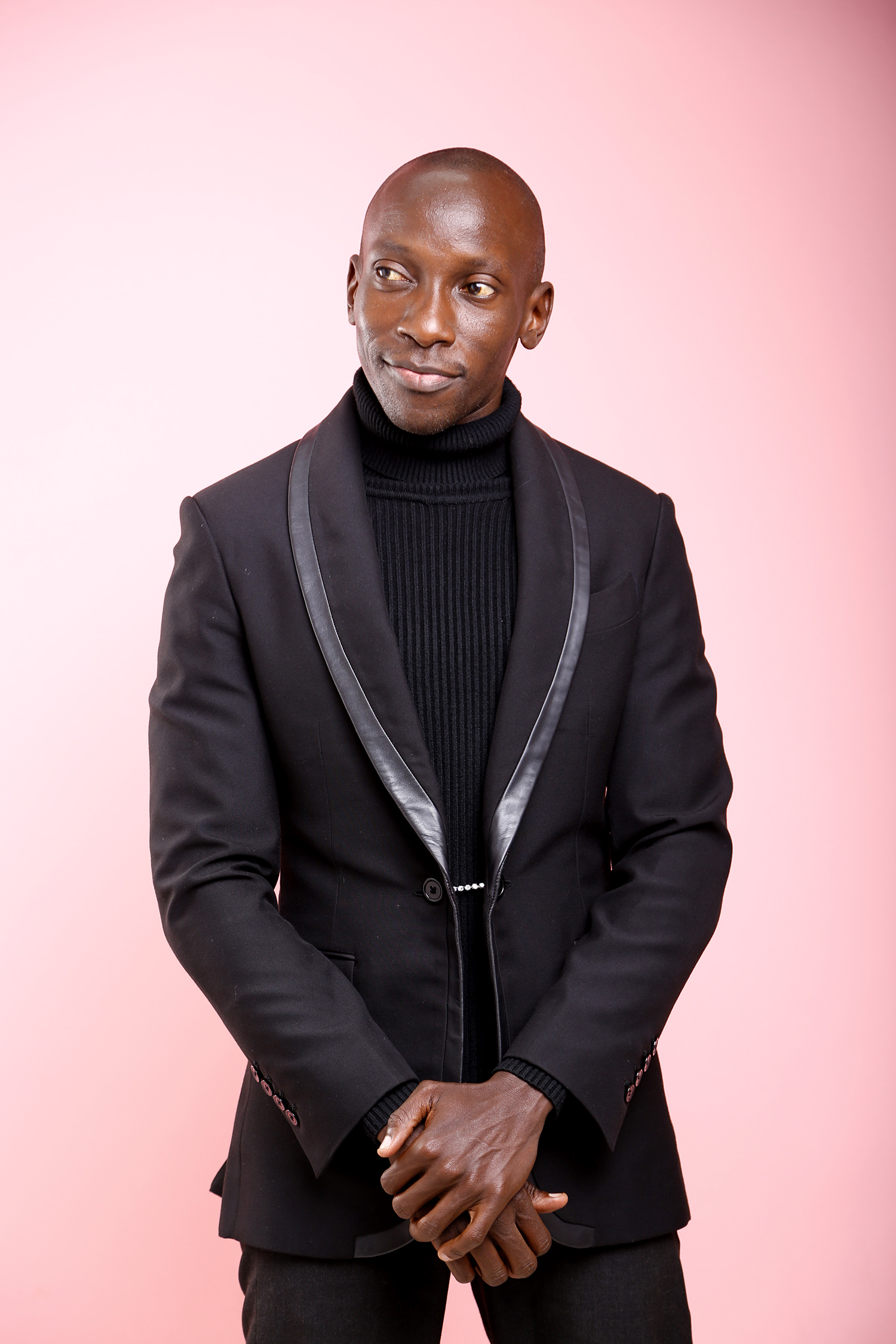 Speaking of powerful designer tuxedos in Nairobi Kenya, here's another one with leather detail that we were fortunate enough to sell to a gentleman you might recognize.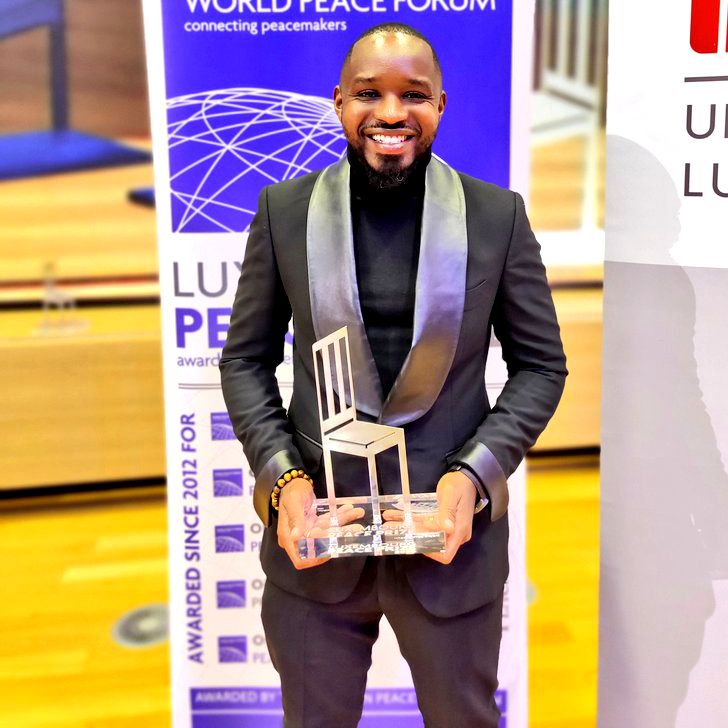 The wow factor on this tuxedo was so intense, that it had random white women approaching him on the streets of Luxembourg.
And Instagram going wild at how fresh and clean he looked.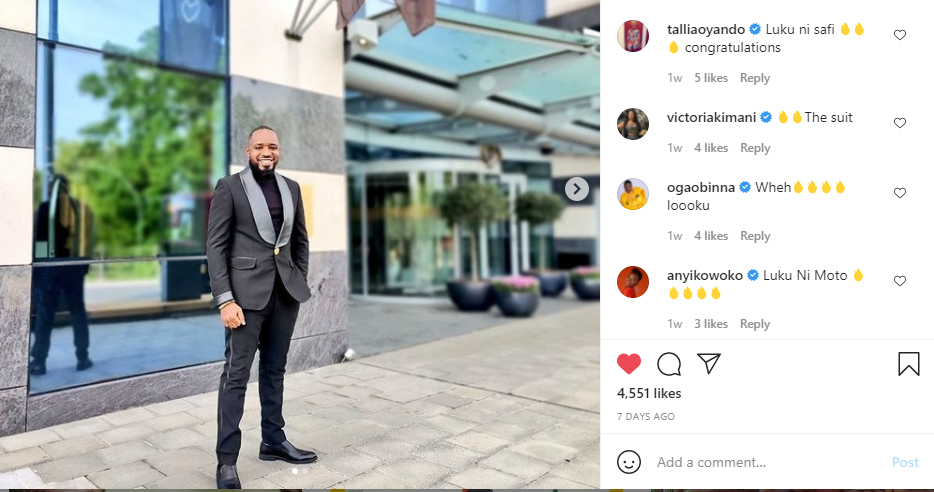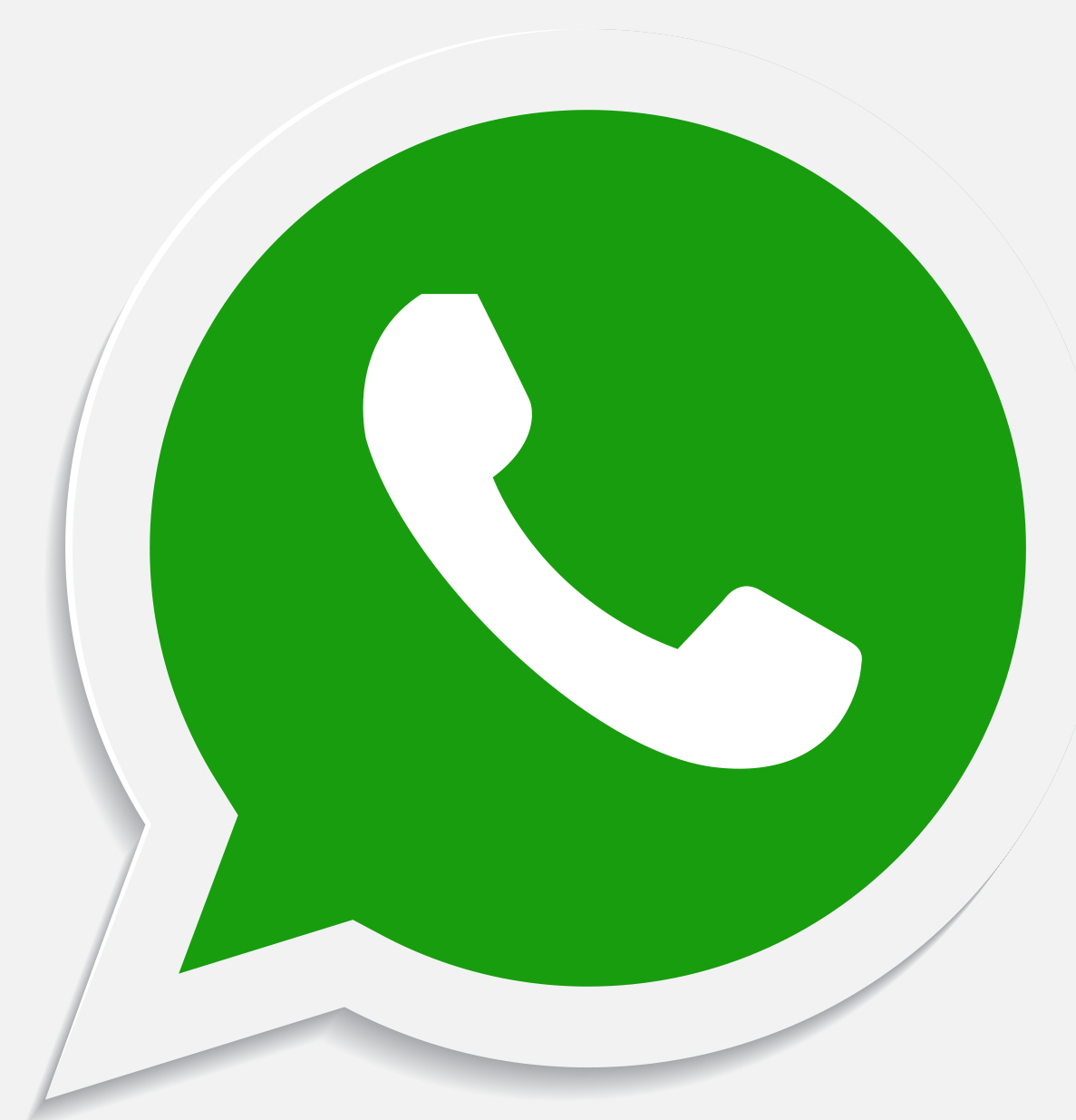 Click Here and Let's Talk about Your Event
The crowd is always guaranteed to go wild when quality and uniqueness are placed at the very top of the list. And this particular tuxedo was the best of the best, plus one. A truly exceptional Kenyan tuxedo.
It possesses beautiful details not visible from that distant shot. Details such as stupendous customized metal buttons.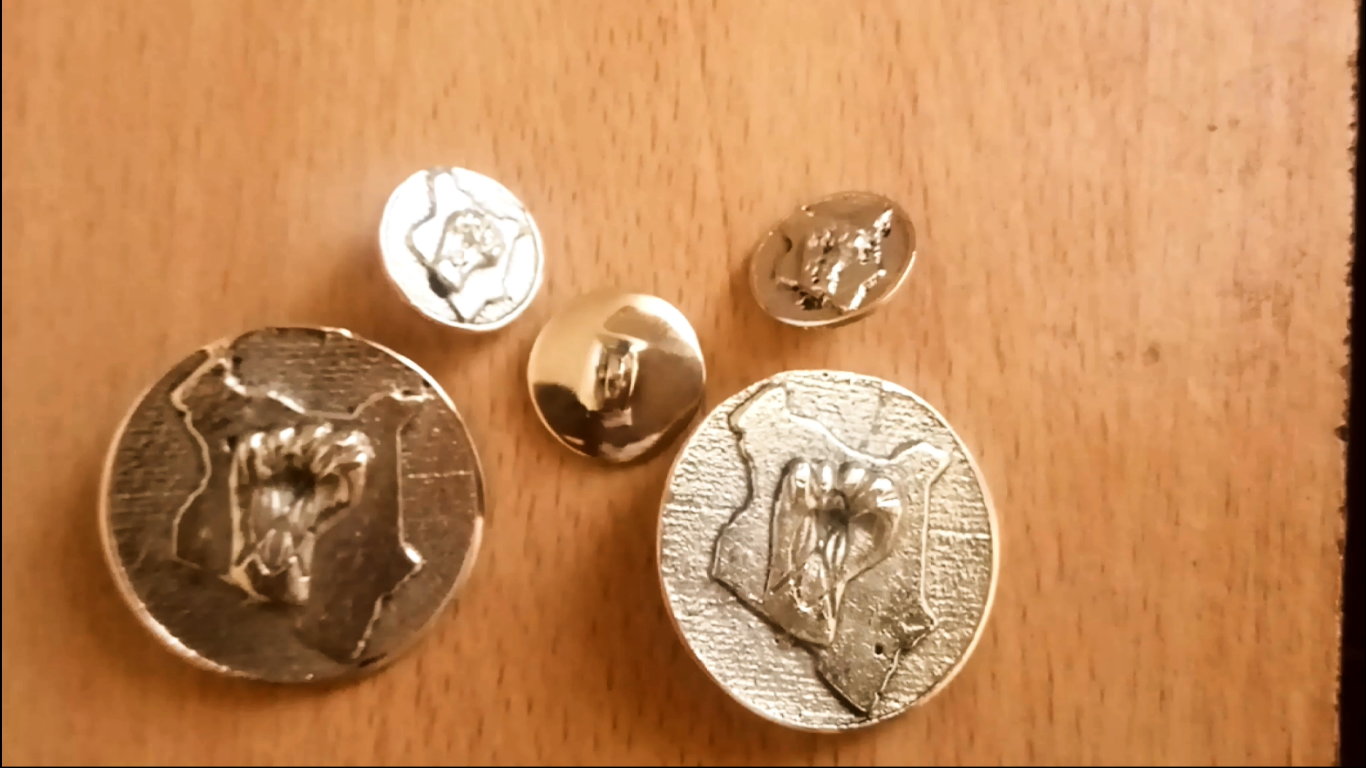 And an inner finish comprised of a pure silk lining and pick stitching detail that will make you want to wear your tuxedo inside out.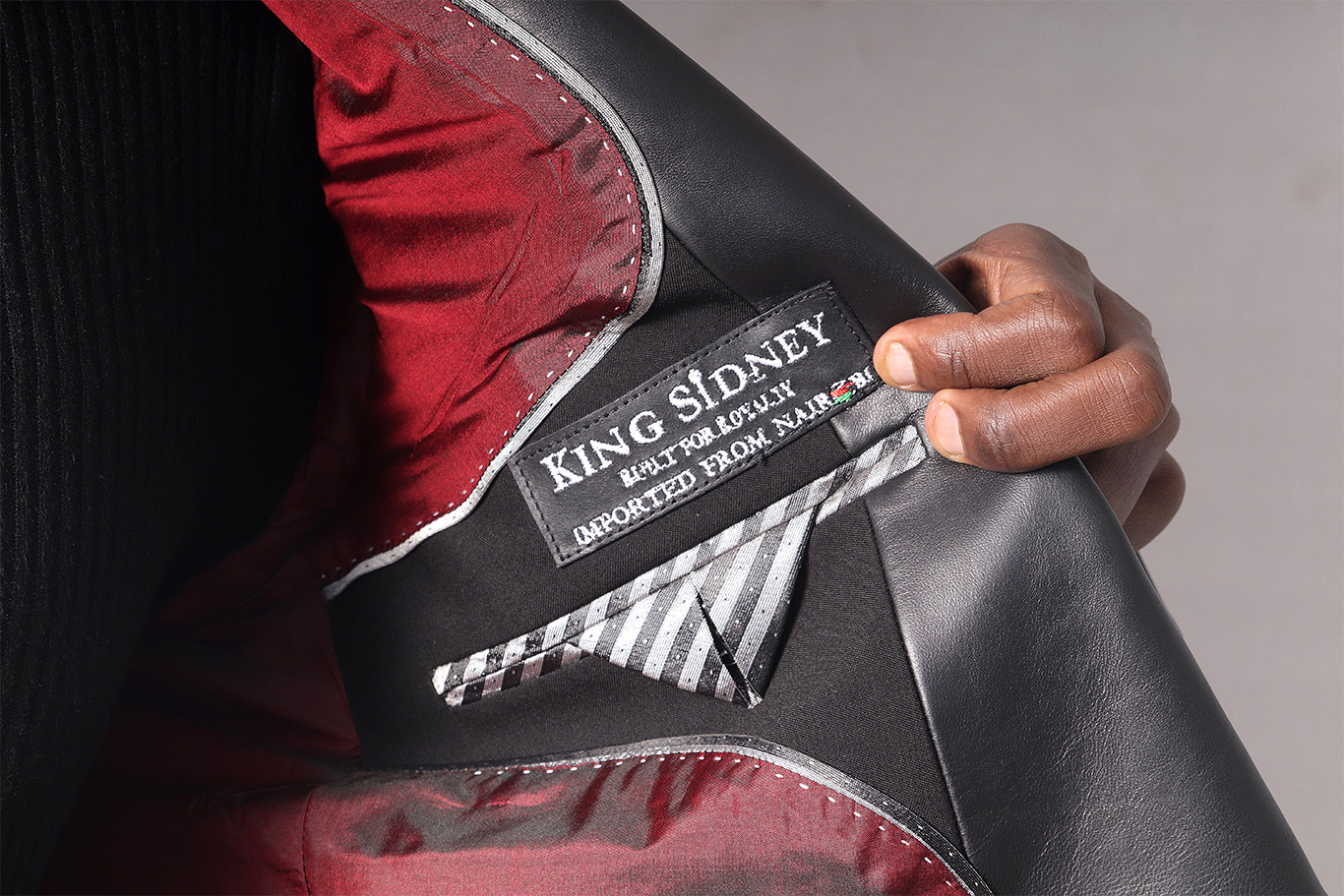 Now at this point, you're probably thinking, "Black and blue are cool but I'd personally prefer a more unconventional color. Give me a beautiful tuxedo in a unique color. And while you're at it, style for me the entire look."
Absolutely Sir. We're here to serve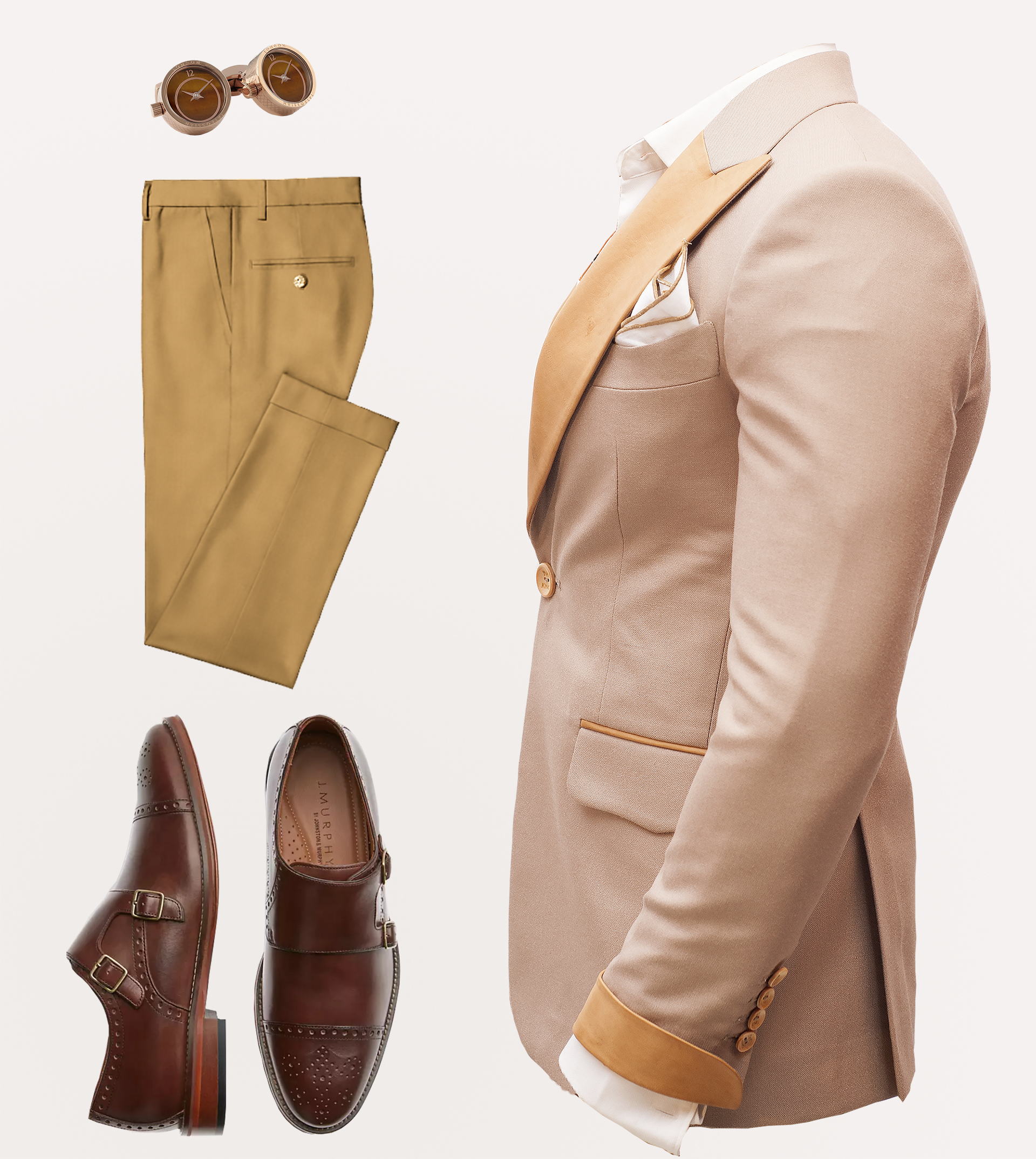 Appropriately referred to as the 'Tuxedo Royale' this special tuxedo will have you looking and feeling like James Bond.
Leather detail and gauntlet cuffs are just a few of the details that make this tuxedo so very exquisite.
Speaking of cool buttons and uniquely colored designer tuxedos, here's a masterpiece of a tuxedo that combines both of those elements into a single tuxedo.
Go ahead and play the video to view the tuxedo live and in HD.
Nice.
What if you're the type of gentleman who's looking for something a whole lot more unique.
An African tuxedo perhaps?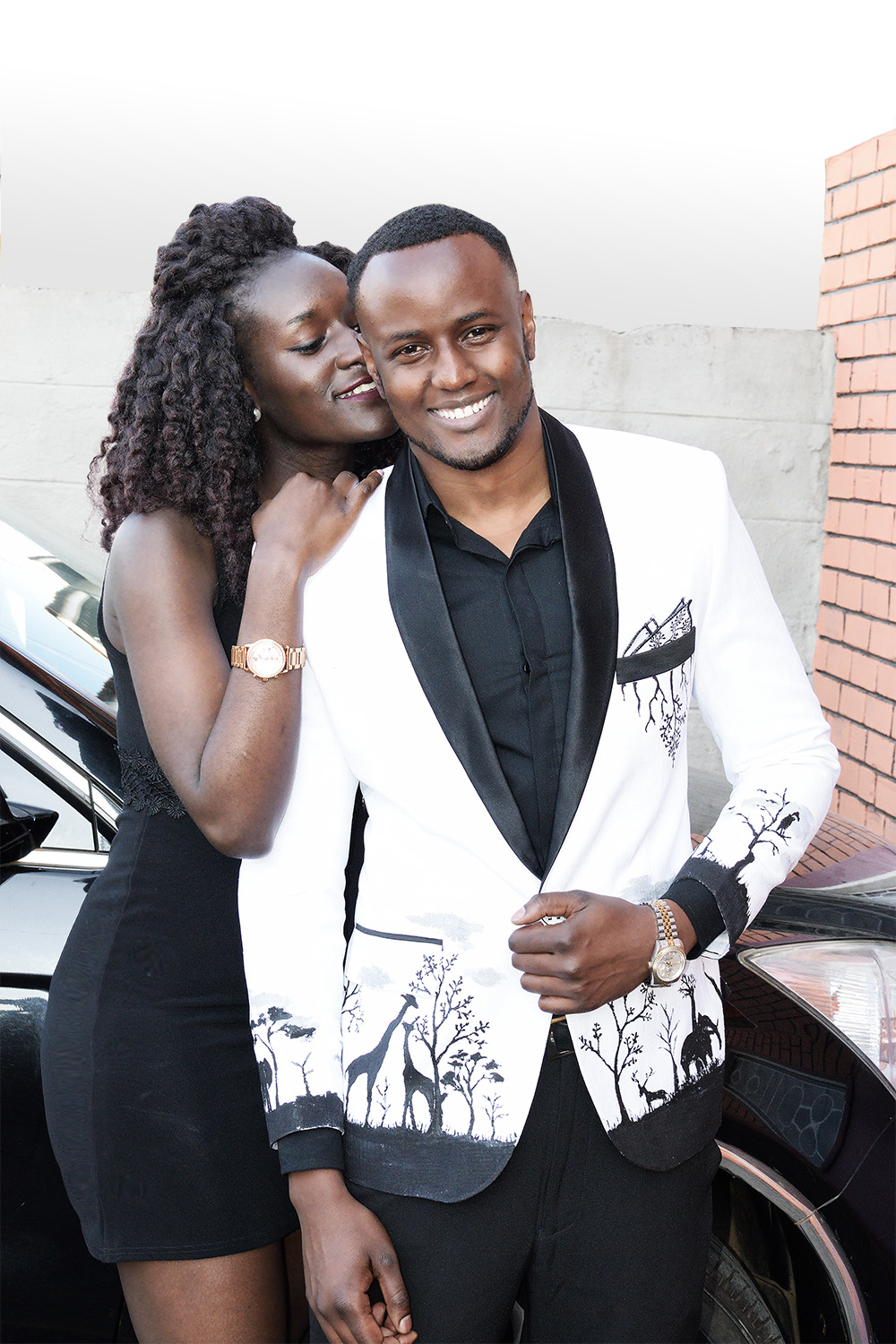 The hand-painted savannah African tuxedo is truly a one-of-a-kind masterpiece. It takes the traditional white/ivory wedding tuxedo and turns it on its head.
Ideal for the bold gentleman looking to showcase his unique taste and love of the finer things in life.
Speaking of African, here's a gorgeous green African tuxedo. Made with non-fade Woodin fabric to ensure you wear it for multiple events over the years as it still looks good as new.
Perfect for an African themed wedding guest appearance.
They ooohs and aaahs you'll get from everyone who sees you in this green leather lapel tuxedo will boost your self-confidence and remind you of just how far you've come.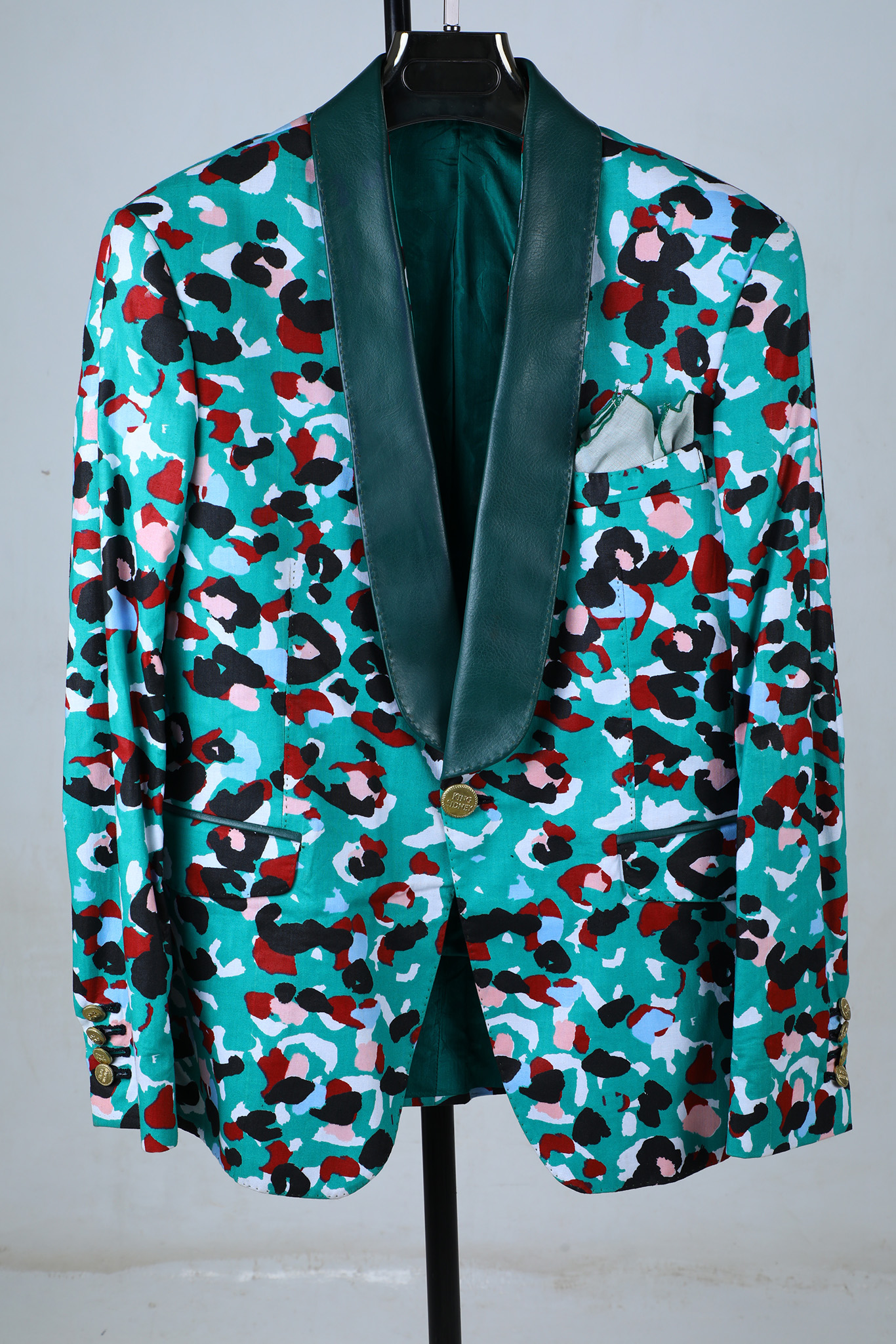 Next up, we have the more traditional black tuxedo suit albeit with a slight twist in the form of lurex pick-stitching.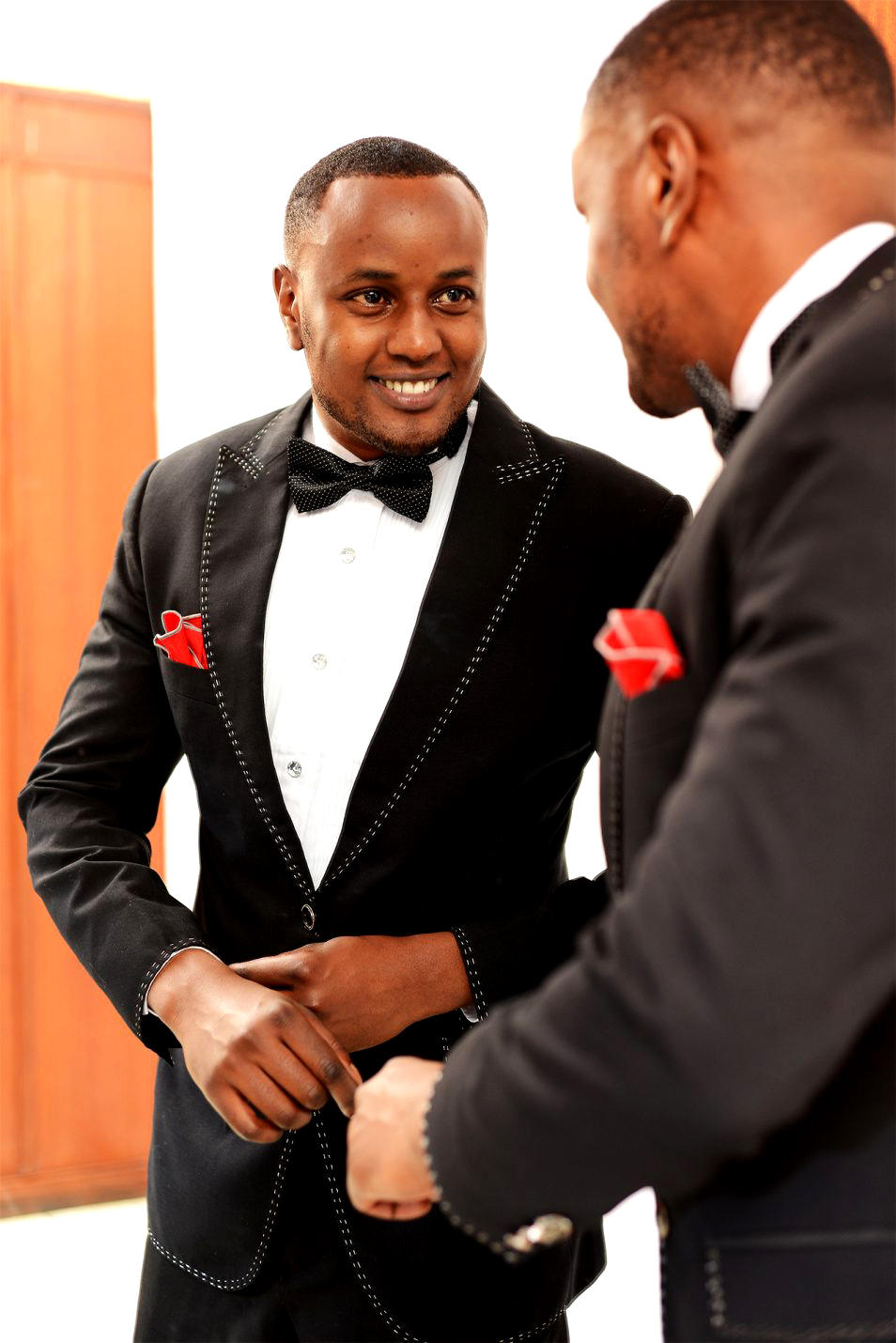 This designer tuxedo suit is perfect for you if you're the type of gentleman who likes to stick to the classics while showcasing sophisticated elements of your sense of style at the same time.
It may not get you as many compliments as the first two. It will, however, still give you that feel-good feeling you get whenever you slip on something beautiful.
Let's say that the traditional black tuxedo is not what you're shooting for at this moment in time. You want to keep it formal in a toned-down color but not black.
Grey perhaps?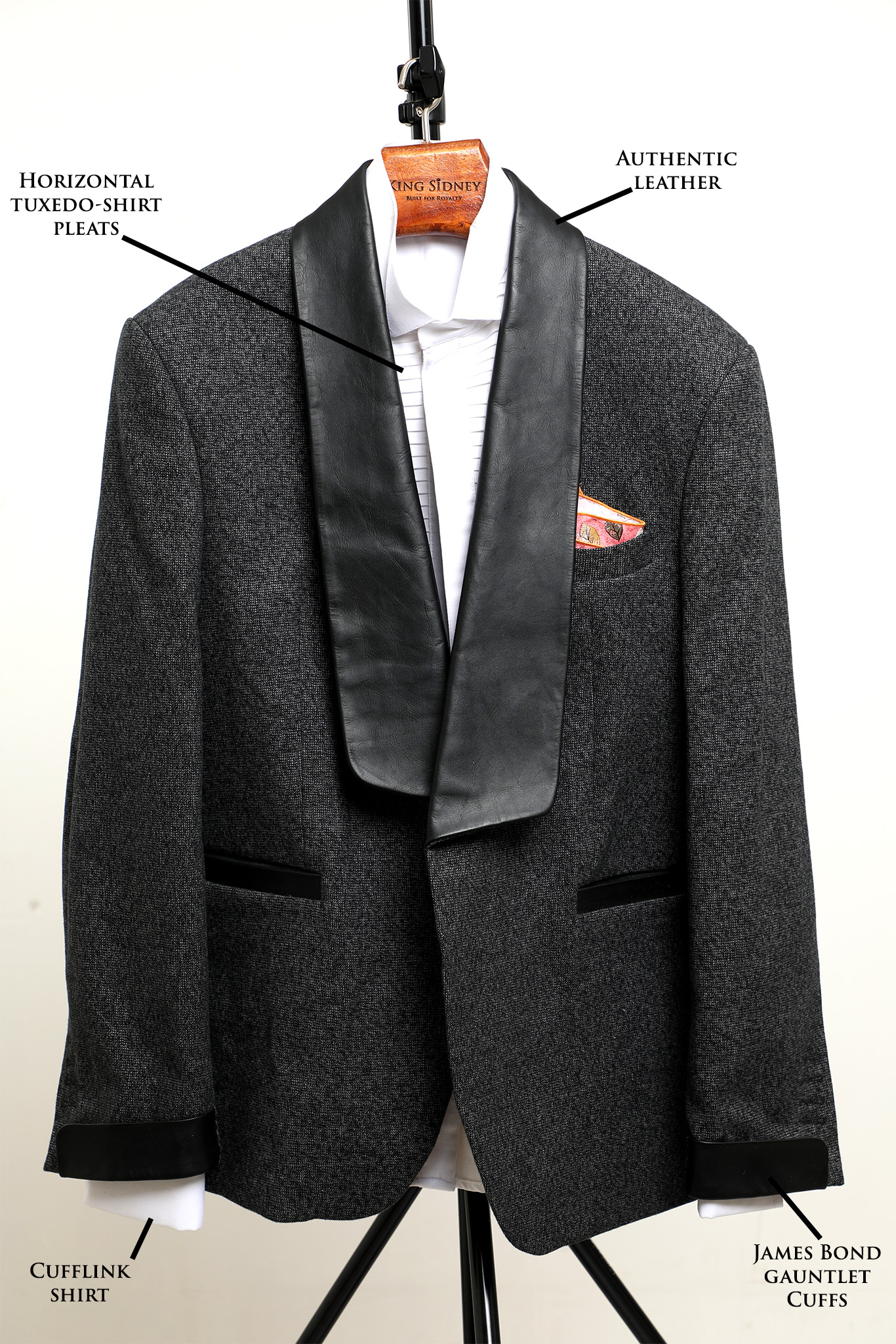 And the following is a different design of the above tuxedo. Just in case grey happens to be one of your favorite colors when it comes to your designer tuxedos.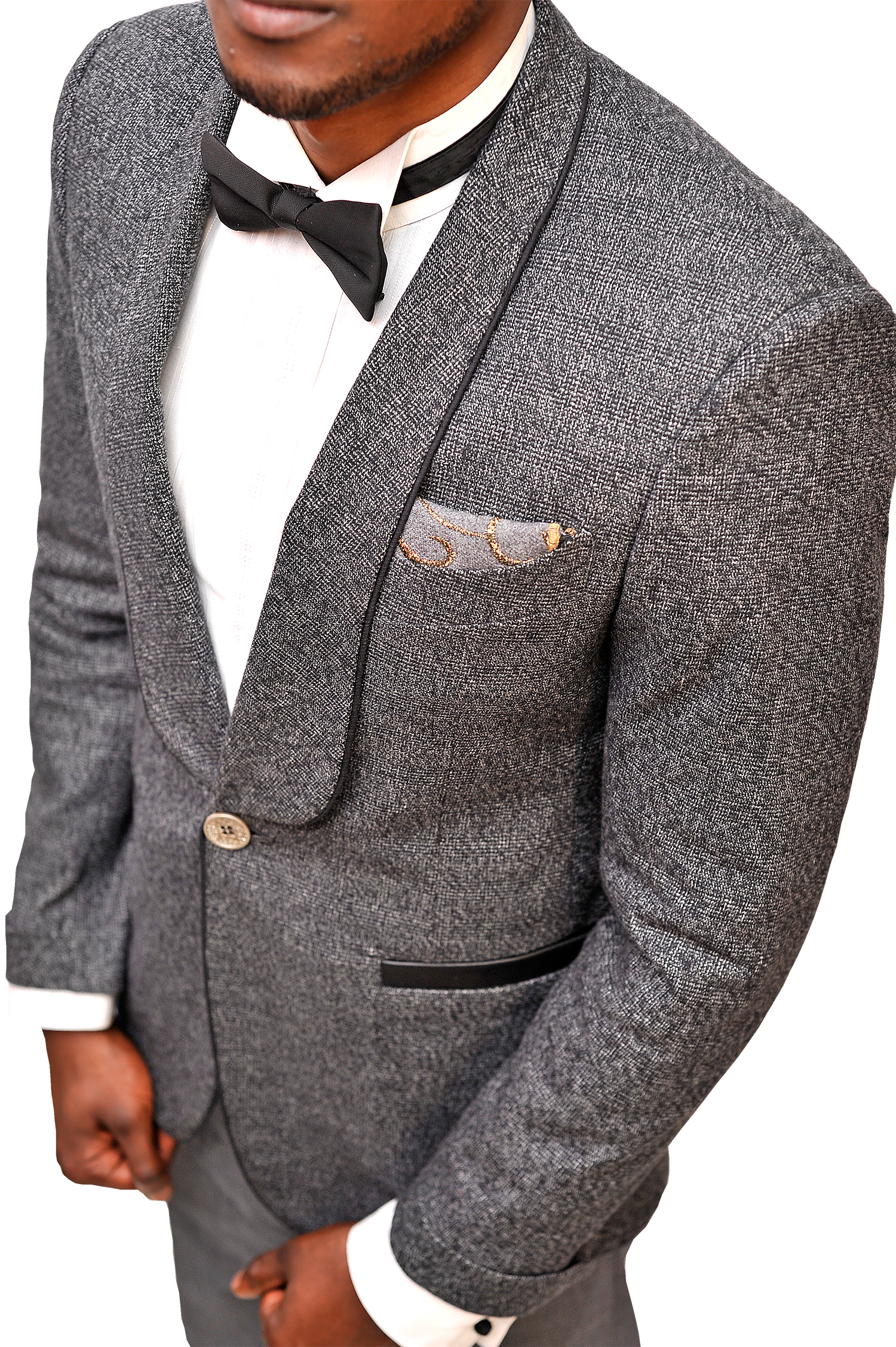 Speaking of traditional formal wear in a non-traditional colour, check out this beautiful tailcoat tuxedo.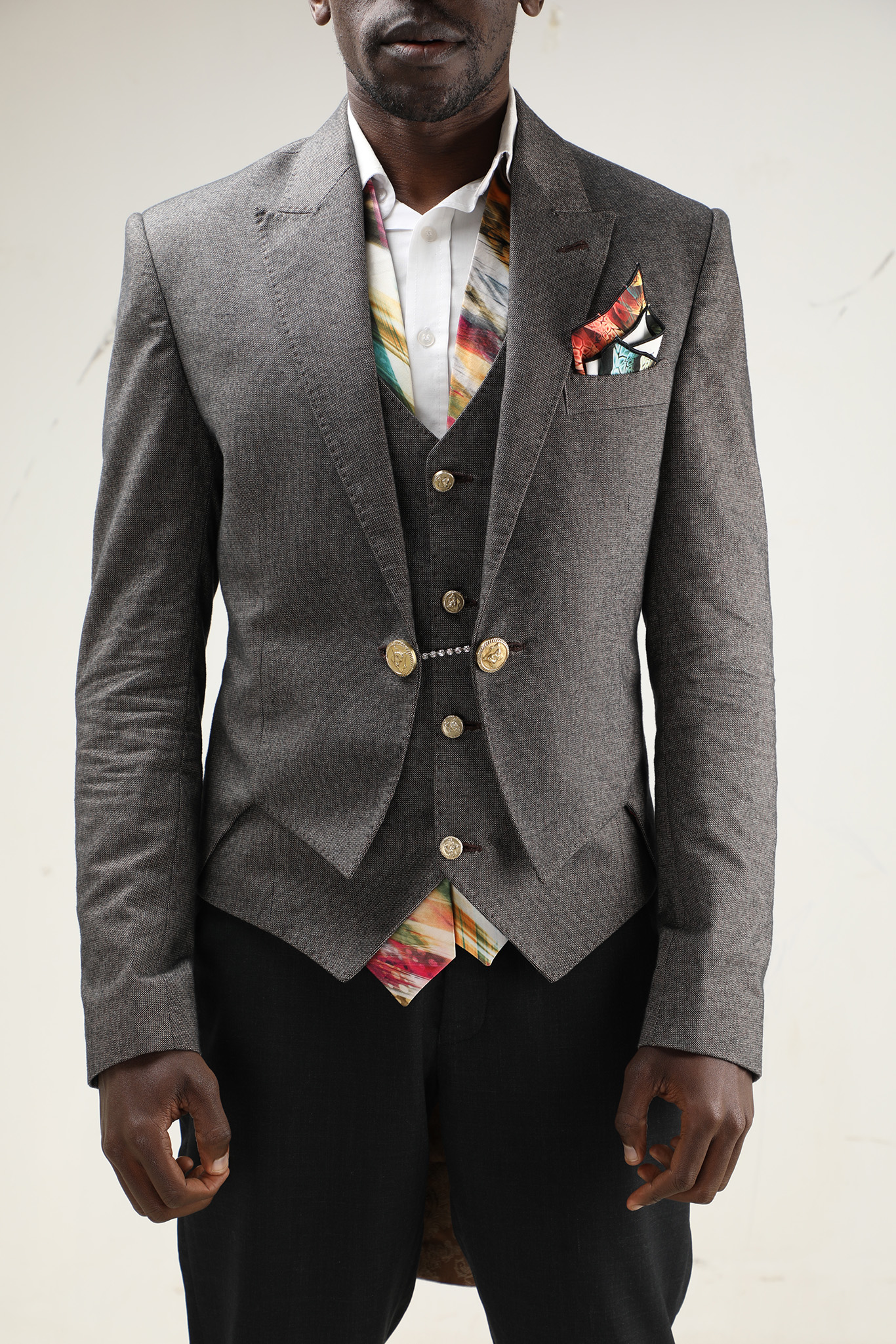 Possessing the type of detail that will have eyes widening and jaws dropping at the sight of you.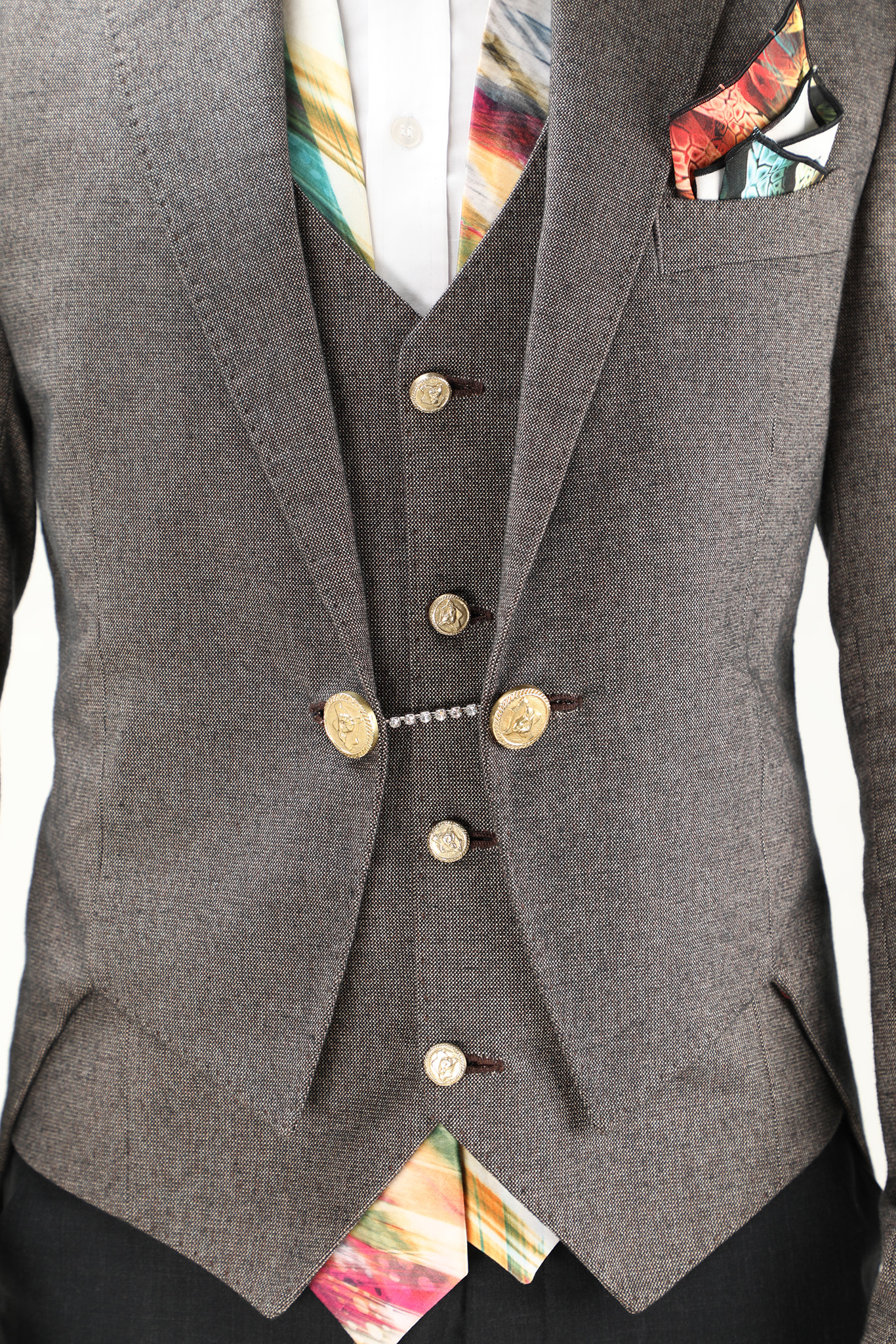 And if it's a yearly tradition for you to attend a specific high profile black tie red carpet event, then let's make sure you win best-dressed man at the award ceremony every year in a row.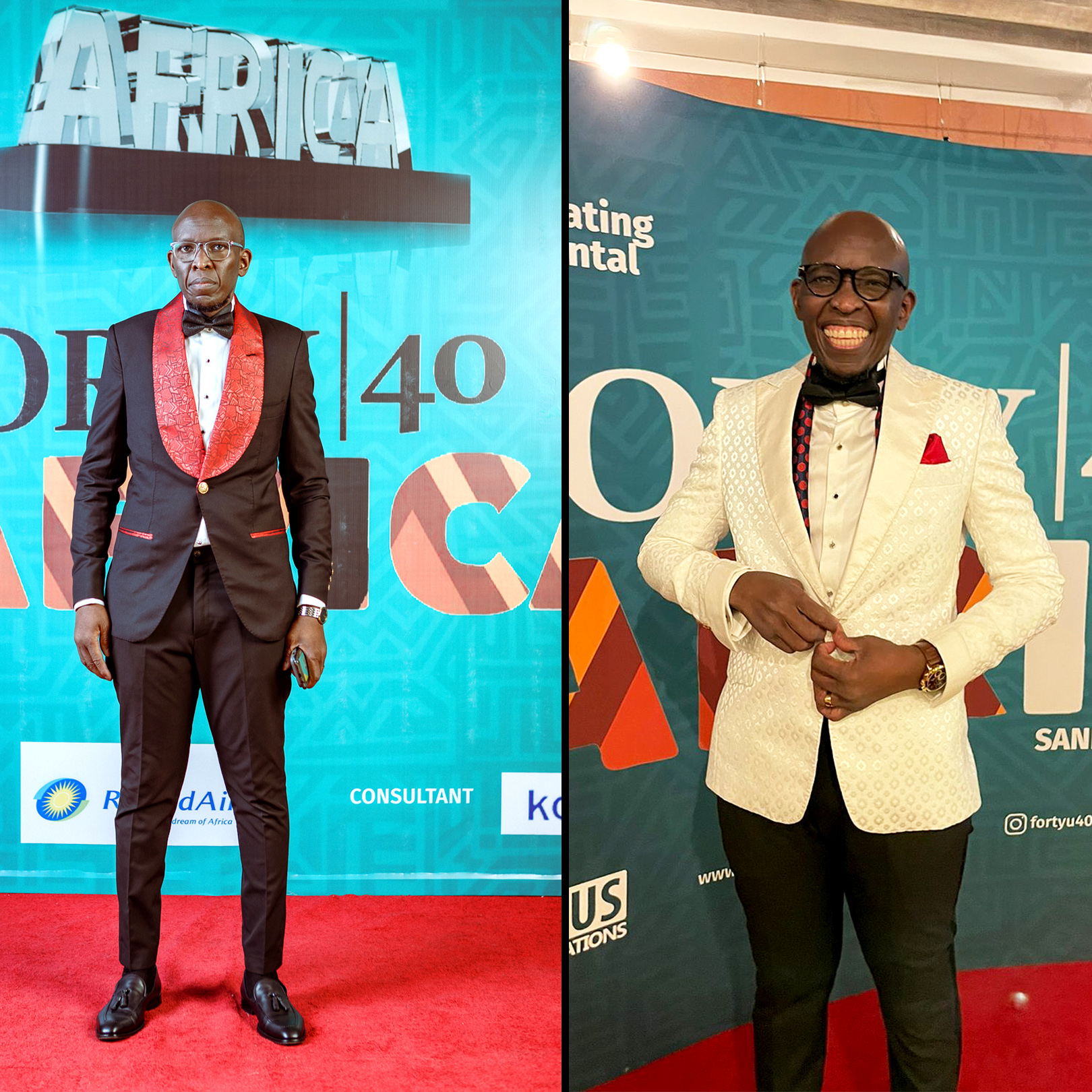 If the black tie event or gala dinner insists on black, then here's a black leather detail designer tuxedo for your consideration.
Speaking of gala award ceremonies, here's a father and son representing the style in their DNA at a gala ball. Both gentlemen truly captured the flair of the occasion in their King Sidney tuxedo outfits.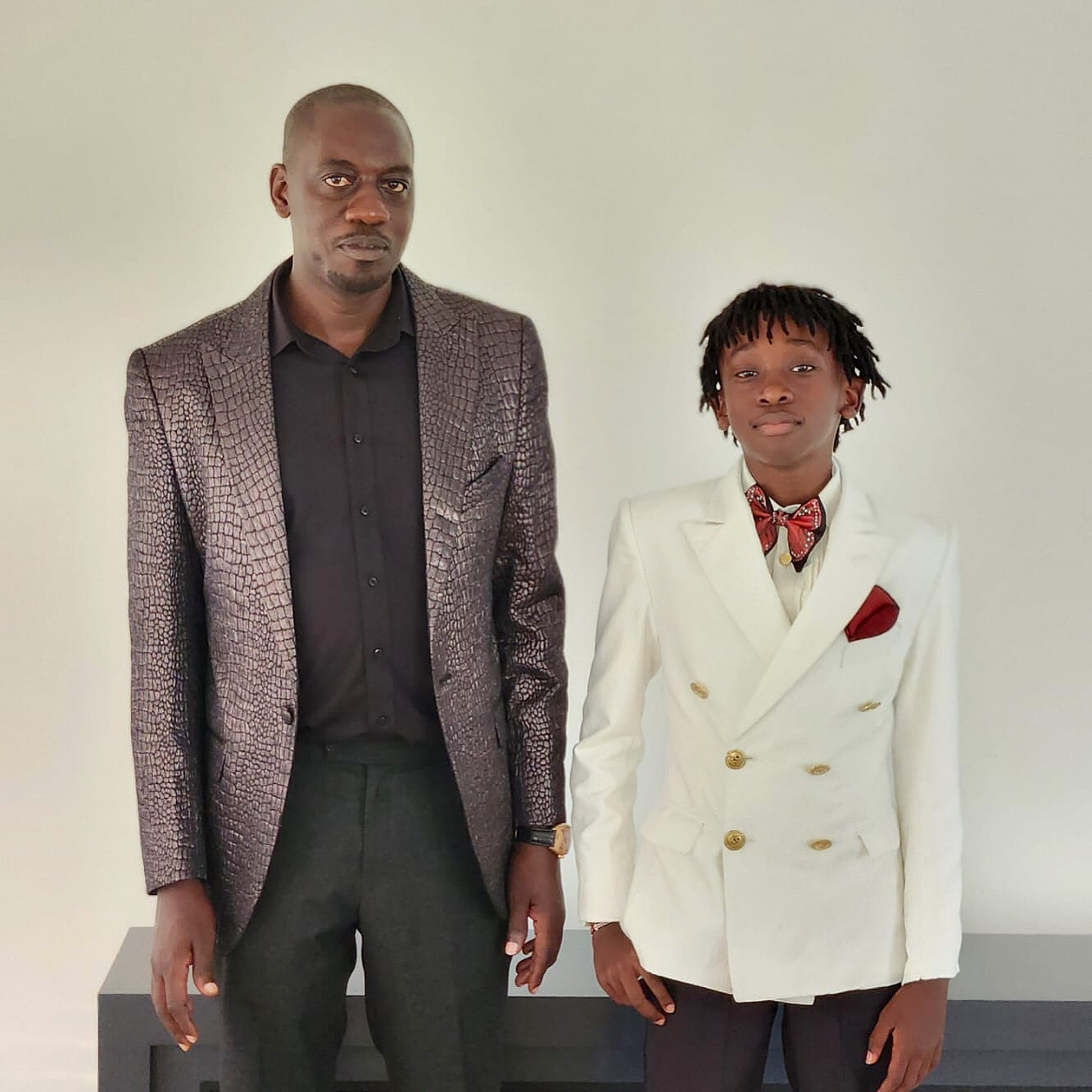 Lastly, we have the ultimate-compliment pulling tuxedo. Perhaps the finest tuxedo Nairobi has ever seen. 
A real statement piece. One that's guaranteed to have eyes popping and jaws dropping the second you step into your occasion.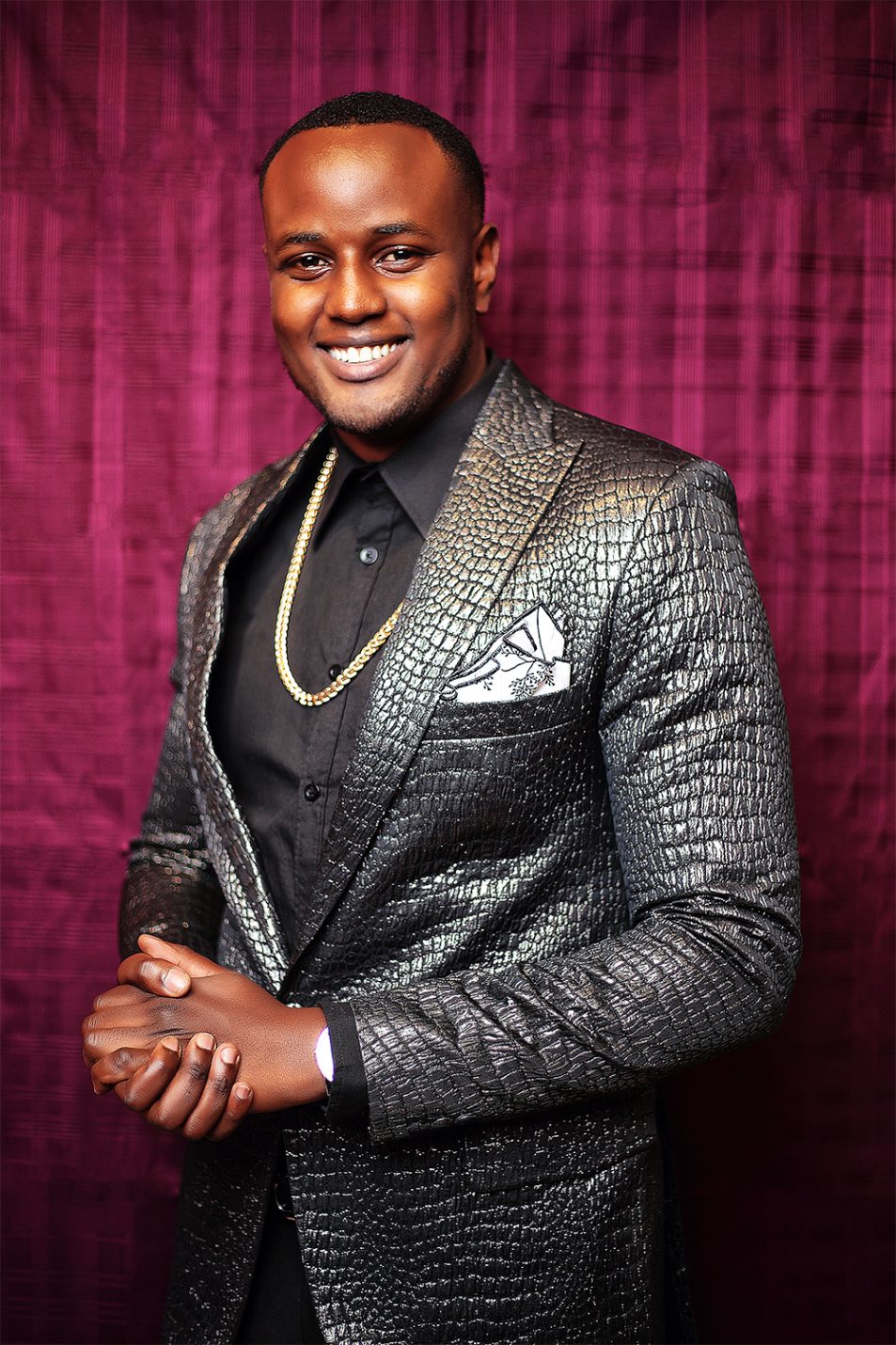 Wait. One last one. Because a true top tuxedo list wouldn't be complete without a bonus tuxedo right?
For that we go to this masterpiece brocade tuxedo we sold to super image consultant King Derek Bbanga.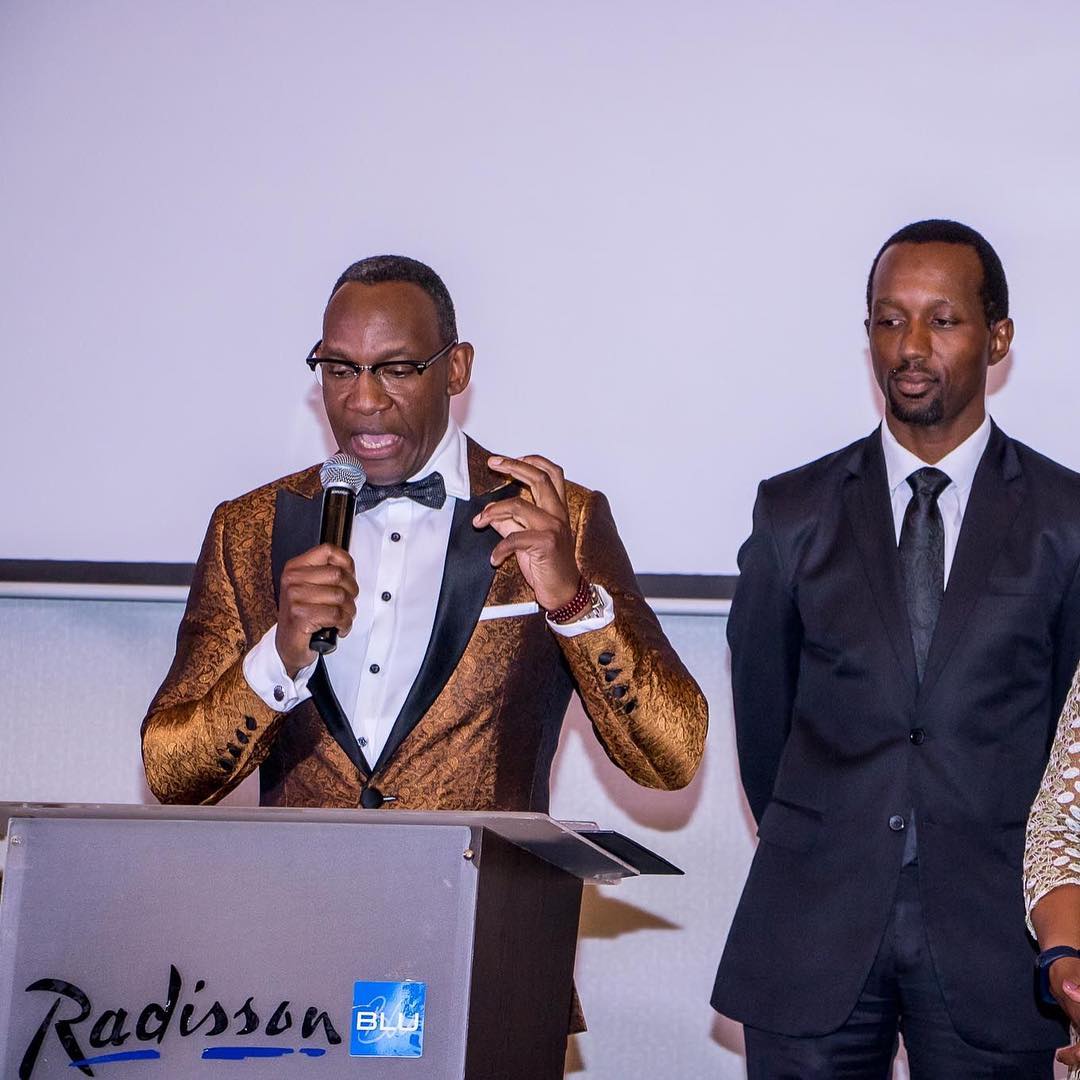 And there you have it. A few of the finest designer tuxedos in Nairobi Kenya.
All of the above tuxedos are exclusive to King Sidney and are available ready to wear at the time of writing this post.