How to style your favorite khaki trousers.
Khaki trousers in Nairobi Kenya are a dime a dozen. You can very easily find one anywhere. You probably own a couple.
If you don't, I'd humbly suggest investing in one. They are the right weight. Lighter than denim and heavier than most office trousers. They are also very versatile.
A versatility that we will quickly explore in this post.
So let's say you own the caramel brown pair of khaki trousers above. You have a special occasion coming up and would like to wear your khaki trousers.
Just how do you style them? Well, it depends.
Are you going for a smart casual look or do you prefer a more formal look? Notice I skipped casual and went straight to smart casual. My reason is that I personally do not believe in dressing casually for an occasion. The very nature of the word 'casual' implies that there is no effort put into dressing up.
I'm not saying that you can't look good in a casual look when wearing khaki trousers. Of course, you can. Most khaki trousers in Nairobi Kenya are built for a casual look.
What I am saying is that it would be very difficult to make a major impression at a function while dressed casually. A la t-shirt and jeans. You'd need to upgrade your look to either smart casual or some variation of formal. Either strictly formal or semi-formal. And since it's very difficult to pull off a black tuxedo look with matching black pants without looking like you missed the memo on the event dress code, let's focus on smart casual and semi-formal.
I personally believe you should dress up smart-casually if you are off to an event that does not have a strict dress code, yet still requires you to dress up nicely.
An example would be a wedding in which you are a guest. Or a client meeting in which wearing a suit may be considered mildly inappropriate. Or date night.
Essentially any function that requires you to look good, but is fairly relaxed with regards to the rules on the dress code. Most of these types of events will not specify any rules. It will be up to you to take the initiative to look good without the guidance of a dress code.
If that is indeed the type of event you've marked on your calendar, and you want to rock your khaki trousers, then you should style them as shown below.
A lovely linen blazer to perfectly complement your khaki trousers. Khaki trousers in Nairobi Kenya are very easy to find. This type of designer blazer is not.
And that is precisely why you will look special, despite wearing khaki trousers that are not special in any way.
Now let us assume you are going to an event in which the above look may be a bit too casual.
It may be a higher-end wedding than the one above. You may be meeting an ambassador, or going for a gala dinner or charity ball. You may be a groom getting married, or an MC hosting a lively corporate event.
Essentially any situation in which a proper tux might be too much whereas the above look would be too casual. But you'd still like to stick with your khaki trousers.
In that case, you would style them as shown below.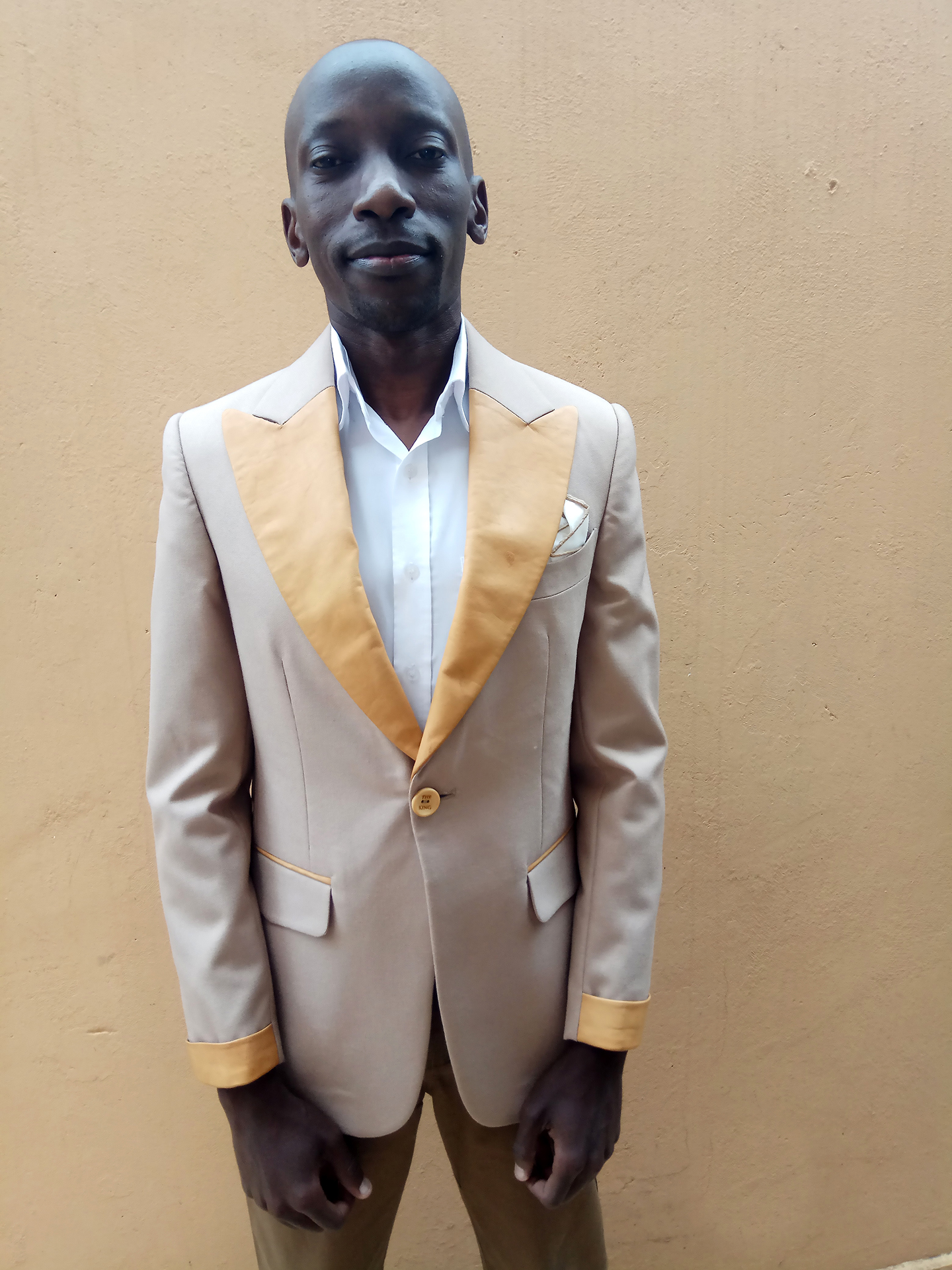 Remember how I said it's difficult to wear a formal tuxedo jacket with khaki trousers?
Well, it turns out that it depends on what type of tuxedo jacket we're referring to. And a unique piece like the one shown above would be perfect for any type of special semi-formal occasion.
So there you have it. A quick style guide on different wears you can style your khaki trousers in Nairobi Kenya. Watch out for part two where we delve into different ways to style your favorite designer brogues.
Till then, Cheers and God bless.
All designer jackets with which to style your khaki trousers shown above are exclusive to King Sidney.