Wedding guest Outfit for men in Nairobi Kenya
Are You attending a high-profile wedding this weekend and don't want to wear a dull office suit?
Check out this superb wedding guest outfit for men in Nairobi Kenya.
What you wear to a Kenyan wedding as a wedding guest depends totally on how big of an impression you're trying to create. Weddings are wonderful social events. They are the perfect grounds for all sorts of positive socializing. Whether it be networking for your job or business or simply looking to have a fantastic time with friends and family. It doesn't get any better than weddings. And Kenyan weddings, some of them at least, don't disappoint in the fun department.
One thing you'll notice about weddings in Kenya is that women bring their A-game in terms of what they wear and how well dressed they are. So whether you're single or going to the wedding with your significant other, it's important that you bring your style A-game as well.
And the way to do that is not to lazily wear the plain office suit you wore to work last Friday. I believe you know better, otherwise, you wouldn't have landed here. No, the way to raise your game as a wedding guest at a high-profile wedding is by rocking an extremely powerful tuxedo.
Name: Maverick Kagesha
Profession: Corporate Safaricom model.
What do you wear to the wedding reception as a male guest?
In most Kenyan weddings, a lot of people tend to skip the main church service. It's a Kenyan wedding tradition that's unlikely to stop anytime soon. So essentially you will be dressing up for the reception.
And nothing earns respect better than a perfectly coordinated outfit comprised of a one-of-a-kind statement jacket, a complementary color shirt, and a matching watch. This is "James Bond" sophistication at its absolute finest.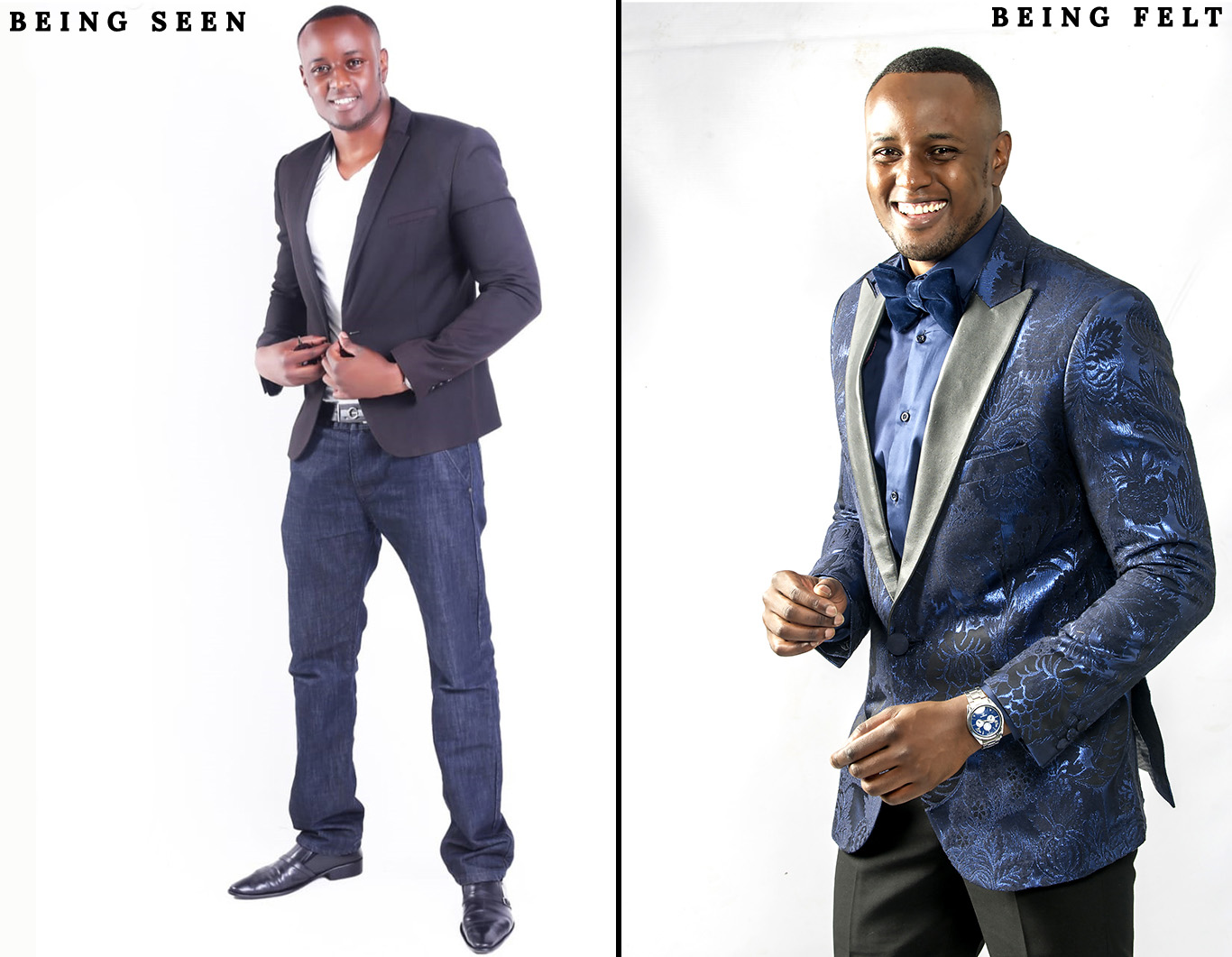 Before – The guy confused as to whether this is a formal or casual event. Smart casual at its absolute worst.
After – The smooth gentleman, kicking ass and taking names at whatever wedding he chooses to attend.
Don't settle for less. You are worth so much more.
You're way too into high-quality for you to ever be dressed as the guy on the left for an important function. That's just not you. Clownish looks just do not fit in with your current level of accomplishment.
By putting him in this brilliant King Sidney designer statement jacket and coordinating the rest of his look around it, we helped him understand that making a huge impression is a bit like being pregnant, there is no halfway about it. When you strut into that wedding reception, you either blow them away or you don't.