Dinner jacket vs. Suit to a wedding
A beautiful wedding guest dinner jacket in Nairobi Kenya
As a gentleman who likes to look unique, wearing an exquisite dinner jacket vs. a suit to a wedding in Nairobi Kenya is pretty much a no brainer.
Particularly if you are tired of drowning in a sea of suits with every other man at weddings you attend. If you are, then a dinner jacket is the way to go. 
Provided of course that it's a dinner jacket of very high standards that is worthy of the function in question. 
There are a couple of advantages to rocking a luxury dinner jacket to a wedding in Nairobi Kenya. As opposed to a suit.
The main one is that dinner jackets tend to come in very unique fabrics. They, therefore, provide an extremely powerful impression at first glance to anyone who sees you in one. Both men and women.
Suits, on the other hand, are very commonplace. So even if you have on one that is top-notch, only an extreme suit connoisseur will notice.
Actually, let me go ahead and show you a real-life example. Let's pick the color blue, shall we? The picture below shows the gentleman attending two separate weddings. 
In one, he's dressed in a blue suit. Whereas in the second, he has on one of King Sidney's designer dinner jackets.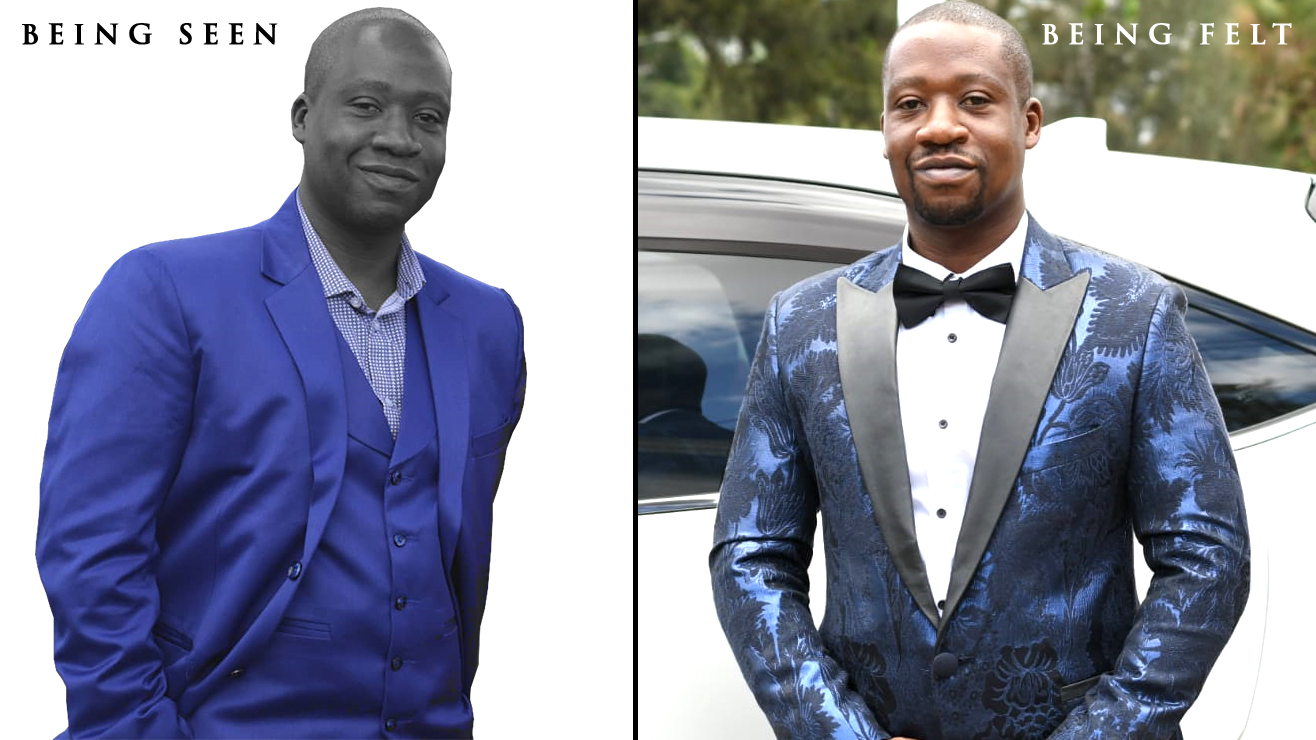 Name: Allan Sajabi Masinde
Age: 41
Profession: Doctor
What he told us about his style.
My style tends to be what most might refer to as boring. I suppose as a doctor it has to be. Monochromatic suits, simple office shirts, formal office shoes… the usual. I was tired of going to functions looking like I had just left work three minutes ago. I wanted to celebrate the inner swag I know I never lost, and boy oh boy this dinner jacket did exactly that.
Before: The doctor who looks twice his actual age.
After: The King, who just so happens to have the title of Doctor listed as one of his numerous life accomplishments.
There are levels to this.
Looking sharp has different levels to it. You have good, better and best. With the suit, he looks okay. With the dinner jacket, however, he looks absolutely phenomenal. The dinner jacket elevates his look to a whole new level.
Whereas the suit is usually worn just to satisfy the formal dress code requirements. Worn because you have no other options.
Well not anymore.